Money Belts, Are They a Great Idea?
I tend to find myself double-checking my bags over and over again before I enter the country I will be backpacking. The thing is I usually wear a money belt while I am on a long flight, but whiling backpacking a money belt has its pro and cons.
As a traveler I seen many tourists carrying their money belts outside and exposing it, or even trying to hide it under a rack of clothing, but no matter what it is still very visible. So there are a few pro and cons towards this method.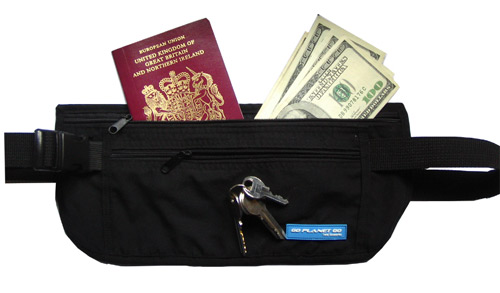 Pros:
♦A slim pouch to hide the most important valuables against your belly is perfect for a long bus ride or a plane journey. To ensure no pick pocketing, while on the road. I have seen many times over again individuals snatching bags from under the seats, over top shelves, and even on people's laps. It can be very common for backpackers to have items stole on trains, while they are asleep.
♦A money belt acts like a wallet, but just a slim one at that. I find if you want to ensure not misplacing it or getting any of your valuables stolen, have a few money belts. Have the most important items on your belly and separate the remaining items in other money belts within your travel gear. This is to ensure if one of these money belts is lost, you have a back up one to keep you going for a while. Plus not everyone knows what a money belt looks like, so they more like to be hidden without anyone realizing what they really are.
Cons:
♦The number one con I find with money belts, they can be very uncomfortable. If you are traveling in a warm climate, they seem to stick to your belly or make your clothes all sweaty.
♦Money belts are designed to be slim, so you can't put a lot of valuables in them, unless you want to make your money belt obvious. Which is why I would recommend more then one belt.
♦Some local people have no idea what a money belt is, but when it comes to backpackers well its no secret there. So carrying it around in public is not the smartest idea.
♦There are many different types of money belts, but the ones with neck pouches aren't the safest ways to go about keeping your items safe. They are dangerous due to the string around you neck and they can more uncomfortable due to the pouch sitting on your chest bone.
Generally these money belts aren't horrible to use, but you just need to know when is a good time to use them and when not to. Since they aren't 100% secure. I use a little something different as a money belt. Take a look at this and let me know your thoughts? It is called a pocket capsule and it is perfect for cards of any kind and cash for a day trip. Most people have no idea what it is and it looks like a business card holder. I find it perfect for a daytime wallet. You can purchase these at any backpacking gear store and they are pretty cheap.
About The Author
Related posts