Reveillon 2010 in Rio
As I think back at my 3 weeks in Brasil, I try pinching myself to make sure it wasn't all a dream. The Amazon, Rio & Bahia, 3 weeks in 3 totally different places… and must I mention that I had the time of my life. It's hard to believe this trip finally happened, after almost 2 years of waiting. And I can reassure you that I will be returning in the near future.
A special moment during the trip was definitely to spend New Year's Eve (Reveillon) on Copacabana beach in Rio. But let's backtrack a little. When I first arrived in Rio after spending a week in the Amazon, I was experiencing culture shock. Going from such a serene and peaceful place like the Amazon and to arrive into a bustling South American big city threw me off track a little. After a few days in Rio, I finally became friends with the people I would share the beginning of 2010 with.
I met Vinnie in the room at the hostel. As a solo American backpacker traveling through South America after spending a few months living in Mexico, we almost instantly became friends. Then, as I returned to my room one afternoon, I met our 3 new friends, Felipe, Pablo and Diego from Argentina. They were on Holidays for 2 weeks in Rio & surroundings. I met another fellow Canadian friend in the hostel named Cam (like the camcorder!) with whom we spent NYE with.
On December 31st, 2009, we woke up disappointed, to rain. We had breakfast and supported each other morally by saying that the rain would not ruin the night we've all been waiting for. I spent the early day shopping with Vinnie. We both wanted to buy something white to wear as it's the traditional way to spend NYE on the beach. White represents peace. We went as far as to buy white ponchos because we were convinced to have fun no matter what the weather would be like. I guess you can say we were extremely lucky because the sky started clearing up around 3 or 4pm. By then, it was time to get ready for the night's celebration. We went to buy some alcohol and of course, Champagne for the strike of midnight. We then went back to the hostel to get into our white clothes and met up with the rest of our friends.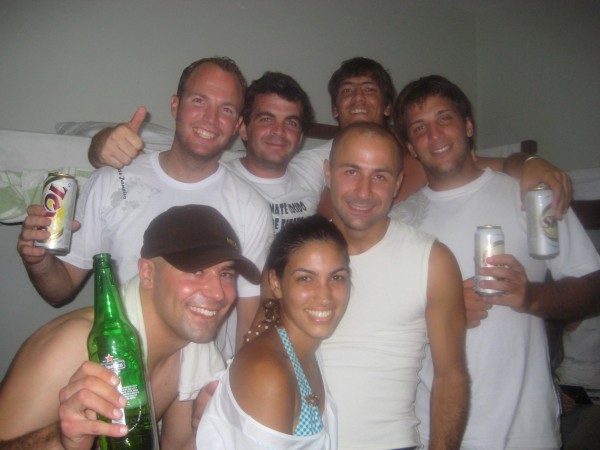 As we walked to Copacabana beach, there were hundreds, thousands or even millions of people. It was craziness! We picked a spot on the beach and stayed there the entire night. There were stages which offered the spectators great shows throughout the night. We had a great time socializing and dancing. And then… the countdown to January 1st 2010 began…
[youtube=http://www.youtube.com/watch?v=rInaF4NTeCM]
This was without a doubt the best NYE ever. A very simple one- bathing suit, white dress, beach, fireworks- but most importantly, I was surrounded by great people. I will forever remember Reveillon 2010 on Copacabana beach in Rio de Janeiro.
About The Author
Related posts