Hang-Gliding in Rio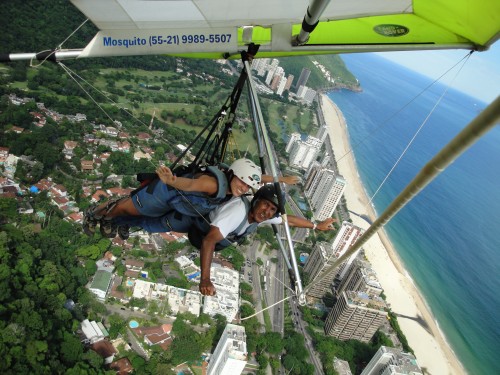 Rio de Janeiro is a city filled with places to see and things to do: ride on the cable car of Pão de Açúcar, watch the sunset from Arpoador, bike-ride around the lagoa, hop on a tram in Santa Teresa, visit the National Park of Tijuca, party in Lapa and of course, sunbathe on the famous beaches of Copacabana, Leme, Ipanema and Leblon. But what better way to experience Rio than from a bird-eye view?  This being said, Rio is famous for one activity- an activity called HANG-GLIDING.
Hang-gliding is a sport where a pilot flies an unmotorized aircraft called a hang-glider. The pilot and passenger are both attached to the frame of the hang-glider using a harness.
Hang-gliding is popular in Rio due to the numerous hills surrounding the city.  The normal price to hang-glide is R$240. Depending on the conditions, the ride can last anywhere between 10 to 20 minutes. Hang-glides take off from Pedra Bonita, on the edge of Tijuca National Park and 520m above the beach of Sao Conrado. You'll fly over the forest and ocean as well as alongside the mountains before landing directly on the beach of Sao Conrado.
I think everyone should go hang-gliding when visiting Rio! The scariest part is take-off. You need to wait for the right winds and once they come, you need to run towards the cliff and then fly off! Check it out!
[youtube=http://www.youtube.com/watch?v=j5hDT0q_Asw]
And oviously, once you're up the in the air, the feeling is simply awesome! The view is gorgeous and the feeling of being up there is even better.
About The Author
Related posts