Little Mermaid takes an adventure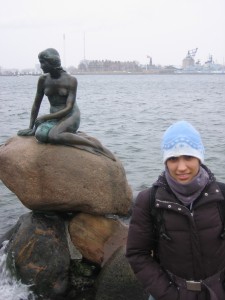 Denmark's famous little mermaid takes a little trip to the other side of the world. On Thursday morning the statue left Copenhagen's harbor. It's going to the world expo in Shanghai, China. Now this trip is the first trip for the 96 year-old mermaid.
The 1.5-meter landmark of Denmark marks the memory of a famous Danish writer, Hans Christian Anderson, so the journey of this landmark is taking to high measures. Though many locals are not very happy about this decision and considered it way to risky to take this landmark away from their country. Some thought it would be a good idea to copy the mermaid and have it displayed in China, instead of having the real one. However, that was not the case and all travel arrangements are being kept a secret for security reasons. Yet this adventure will take a week by ship and security will be keeping a close eye on it at all times. Once it arrives in China it will be displayed a week before the expo and will stay on site until late this year. So for all those European travelers who will be missing the site of the mermaid, well yes they will be disappointed to not have the chance to see the real thing. But instead the Danish are installing a video of live feed of the mermaid while it visits Shanghai. Over this entire journey for the mermaid is only temporary and the mermaid will be returning to Denmark by the end of this year.
About The Author
Related posts