An Afternoon in the Canadian Parliament (Ottawa, Canada)
I was in 6th grade last time I stepped foot in Ottawa. What do I remember about my class trip? Well, not much! After so many years, I decided to go back. Why? Because now I have a friend  who lives there! If there is one thing you will quickly learn about me, it's that I normally take road trips to places where I have a friend. So yeah, over 12 years later, I was finally back in Ottawa- a 2 hour drive away from Montreal. As I drove through the city, I was actually pretty impressed by the Parliament and for a slight second, I felt in Europe.
So what exactly is there to do in Ottawa? The main touristic spot is obviously the Parliament. And if you're not Canadian, you're probably really lost right now! Ottawa is Canada's capital and the Parliament sits on Parliament Hill. The Queen Victoria chose Ottawa as the capital back in 1857.
Canada's Parliament involves 3 parties: the Queen (represented by the Governor General), the appointed Senate and the elected House of Commons. The Senate is normally represented by the color red. It has 105 members and they are appointed by the Governor General, divided in a way to represent regions, provinces or territories across Canada. Senators can serve until they are 75 or until they choose to retire. It is only at that point in time where another Senator will be appointed. The House of Commons on the other hand has 308 members and are elected by us Canadians. They can serve for no longer than 5 years as per our Constitution. Green represents the House of Common, a color that follows the traditions of the British House of Commons. Both the Senate and the House of Commons can propose new bills or laws. Once the party approves it, they'll go over to the other party to get the final approval stamp. Any bills to collect or spend public funds must however originate in the House of Commons.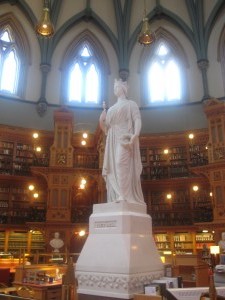 Another really interesting part of the Parliament is the Library. When the Parliament burned down in 1916, only the Library survived the fire because of its iron doors. As you walk into the Library, you'll notice a statue of the young Queen Victoria. The room is gothic-like and you should pay attention to the handcrafted details in the room- from the rough sandstone exterior, to the thousands of different flowers and masks carved into the white pine panelling. I felt so much smarter by simply standing in the room!

Although I've taken the time to learn about different cultures, I never really took the time to appreciate my own country. That's exactly what I did last weekend. Too bad flying within Canada is so damn expensive! They should definitely pass a bill to make flying within Canada cheaper!
About The Author
Related posts