Getting Stuck On A Boat: Backpacking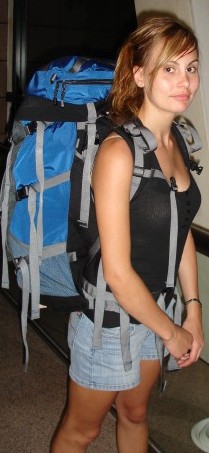 Have you ever got stuck on a train or a boat?… resulting to no food and being extremely tired. Well sometimes backpacking can put you in those positions. As for me, well I got stuck on a boat!
It was 7 am, July 28, 04 and I was getting on the train to Brindisi, in order to catch the ferry to Greece. I was so tired, but I had 6 hours to sleep until my destination. Once I arrived in Brindisi the first thing was to get the ferry ticket and hoping that there was a ferry leaving that day.
As you may know, being a backpacker is all about taking risks and as I always say, "WING IT! So that is what I did with this little adventure of mine.
Finally with some luck, there was a ferry leaving that day. I paid the 54 Euros for the ferry, along with another 9 hours of waiting to get on the "1940", rusty old vessel. Oh Ya, it was a scary looking ship!!! The 9 hours wait was due to the ship's crew wanting to smoke their cigars along with finding the captain's whereabouts. However, I took advantage of the wait with some friendly chatting to a group of Spanish backpackers. We played cards, ate lots of cheese, and listened to some great Italian music all night. It wasn't until midnight that we all were allowed on the boat and at that time I was exhausted. Oh yes, backpacking is a vacation from reality, but can be exhausting.
The next morning I woke up around 9am after a good sleep considering I slept on the floor with bags, clothes, and shoes surrounding me. I headed for the deck of the boat to see the view, plus to get some fresh air. As I got to the deck, a few of the crew workers were running around yelling in Italian and all of a sudden announcement came on. I couldn't understand it, but I realized the boat wasn't moving. I quickly went to find my Spanish friends to see if they knew what was going on. Once I found them, they mentioned that the boat broke down and at the moment the crew is trying to solve the problem. So as it was, we all waited 10 more hours in the middle of the Mediterranean to finally be on our way to Greece. 10 plus another 5 more hours to reach our destination, with no food, little water, and nothing to do, oh it was quite the backpacking adventure! Oh and did I mention that as soon as I got off the boat in Greece the first thing on my mind was shawarma!
About The Author
Related posts