Gone Camping!
Nara and I. Reunited. For a week-end. Camping. In Ontario. Canada.
As most of you know, Nara and I met 5 years ago while backpacking in Portugal. While she lives in Toronto and I live in Montreal, we still managed to stay friends throughout the years. While the blog keeps us close, we're not always physically in the same location! But last week-end was a different story… Since the both of us are adventurous, we decided to meet halfway to spend a week-end camping with our friends!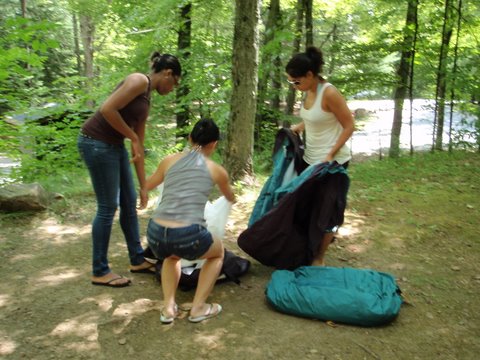 My friends and I leaving from Montreal and Nara friends  and her driving from Toronto, we met  in the Shabot National Park in Ontario. While we were both in the same Park, we were on different campsites.  Our first day camping started out as any other day on a campsite. After our arrival, we set up our tent. Considering that we were 4 females prepping the site, I am proud to announce we did everything all by ourselves! From setting up the tent, to cooking using a propane stove, to starting and maintaining a fire, we did it! After setting everything up, we went to play some volleyball at the beach. Everything until now was going just fine… until.. until after dinner. So after eating, us 4 girls headed over to Nara's campground for some bonding near the fire. They were 7 people on the site so plus us 4 equals…. 11!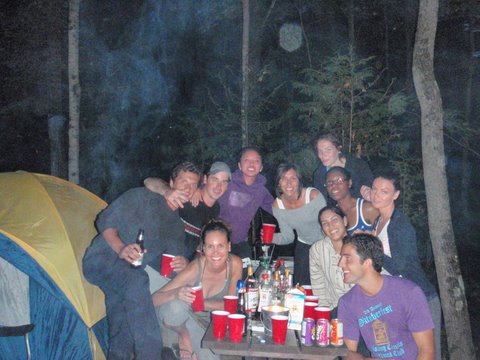 For those of you who have already camped in National Parks, I'm sure you already know that they don't tolerate noise and rowdiness. But what do you think happened when 11 people were on one campsite drinking. Yeah…  So after several warnings, the party ended relatively early because of a few visits from the rangers. To our surprise, the rangers came back to the site on the following morning to let the group of 7 friends know that they were being evicted from the Park! We couldn't believe it! They had to leave the campground area by 1pm and they were banned by all National Parks in Canada for 72 hours. After much bargaining, the rangers allowed them to spend the rest of the day at the beach.So after a great day at the beach playing some more beach volleyball, frisbee and soccer, we had to say our goodbyes.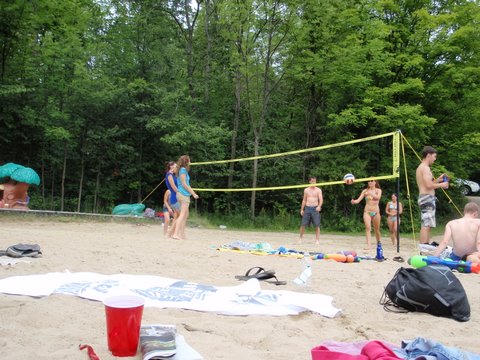 As most of us all met that weekend, our encounter was short and sweet. Too bad it ended pre-maturely. But all this to say that the one night we all spent together was awesome! And we'll just have to plan another weekend full of adventure!
About The Author
Related posts