Travelgrove.com; The easy way to plan your next trip
Often at times I find myself browsing around on the Internet to find great travel deals. Sometimes, I don't have plans in where I want to go, but I do know if I see a deal or a cheap flight it gets me eager to plan a trip. Although, I come across many travel sites that have me spinning around in circles, due to the navigation of the site. However, a travel website that is not only filled with cheap flights, amazing last minute vacations deals, and easy to navigate is called Travelgrove.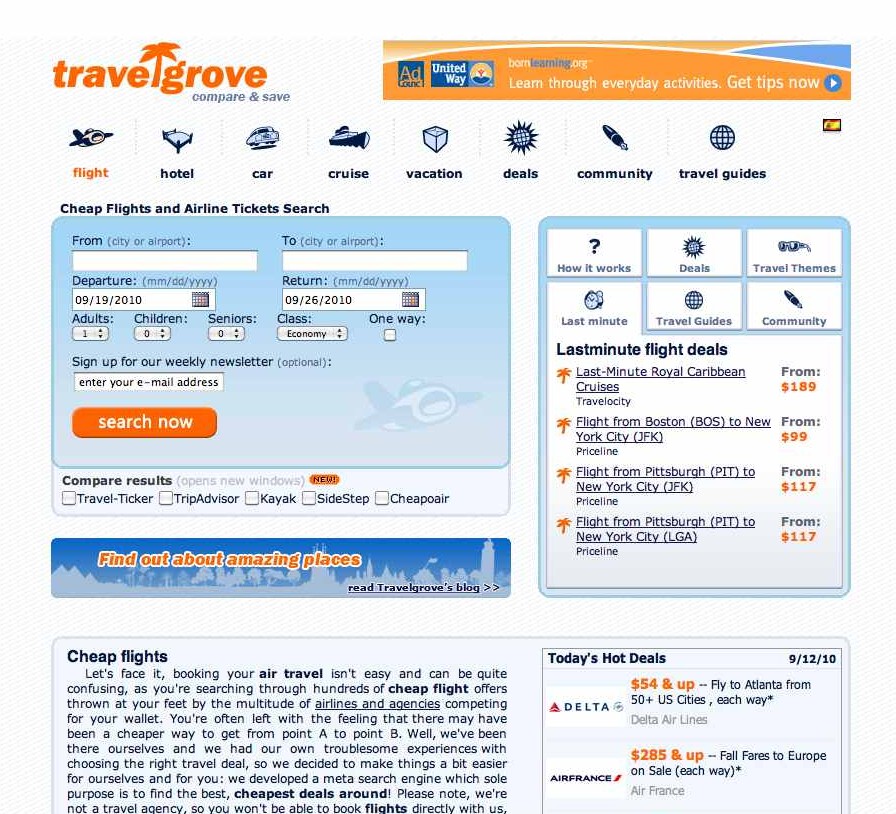 This website is only a click away from escaping reality and planning your next trip incredible easy. What I mean by easy, is for example if you are looking for a cheap flight to Boston, it's only a click to see what are the best options for prices, time of day and month. The prices and dates aren't only clearly shown for you, but it's also easy to include a hotel or car rental.
Travelgrove provides a simple yet useful ways to book your trip, but also includes helpful information about the destination. There is a travel guide on every destination you plan to visit, for example Los Angeles travel guide includes maps, pictures, nightlife, and sights to explore. Now, I know as a traveler myself I always want to be prepared to know what are the major landmarks to see, how to get to them, and of course what are the best places to eat/drink. This site targets all those areas of interest. Plus it even offers you practical tips about the destination, such as traditions, customs, and safety. So you can connect to all of those resources in just one easy go. Yet, not to forget in a couple of weeks this site will even be re-launching to make your trip planning even one more step easier. Travelgrove is travel site that not only has cheap flights but has the purpose to make your getaway trip simple to plan, fast to book, and make you want to become avid traveler.
About The Author
Related posts