Texas: Everything is BIGGER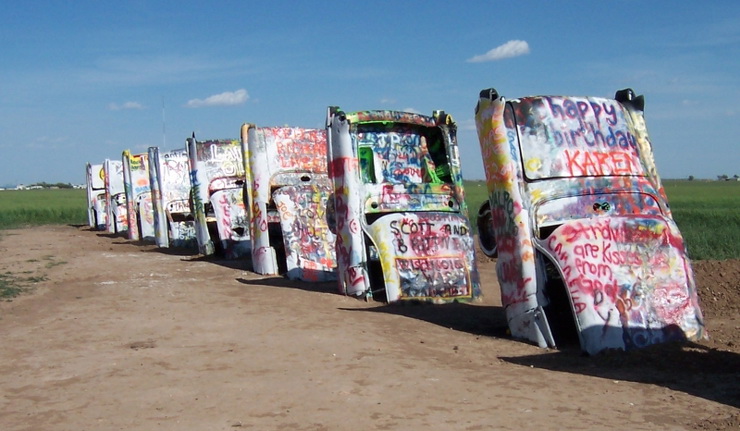 Where the heart is and where everything is getting bigger is the state of Texas in the USA. Texas is now becoming one of the most popular tourist destinations in the U.S. More and more people are exploring what Texas has to offer besides the large amounts of food. The place to see is Amarillo a peculiar city due to it's funky, but strange atmosphere. Even though the state is better known for it's oil and gas the city of Amarillo has put a particular interest in many people minds. The main attraction includes an iconic piece of art. This art is displayed with hundreds of 70's Cadillacs buried nose down in a field of mud. It is better known as the Cadillac Ranch. Many tourist come to think it's a surreal place of art.. Yet, this isn't the only reason why people go to Texas, it is to also get a taste of the best Burritos in the state. A place called Sharky's is quickly becoming a legend. It is said that if you go to Texas and do not have Sharky's, well you missed it all!!!!
Now what to wear when you visit, well that's an easy thing- bring your cowboy hat and cowboy boots. These are two essential items you will need in your suite case. Another great thing to bring is a pair of holey jeans and a denim shirt. This should get you by when you take the step into Texas.
As for the list of things that are a must see, well for the shopping part visit Riverwalk in San Antonio. It is the place to shop and get really full off amazing food- lots of meat. Yet, the place to get a history lesson is Alamo. It is one of top landmarks in the USA as far has history goes. It is not only the place where Texas fought against the Mexican army but also a place to learn about Davy Crockett.
Overall the thing to experience in Texas is the land. The is over 624 miles of shoreline and diverse amount of landscape to see.
About The Author
Related posts