U2 360 Tour in Montreal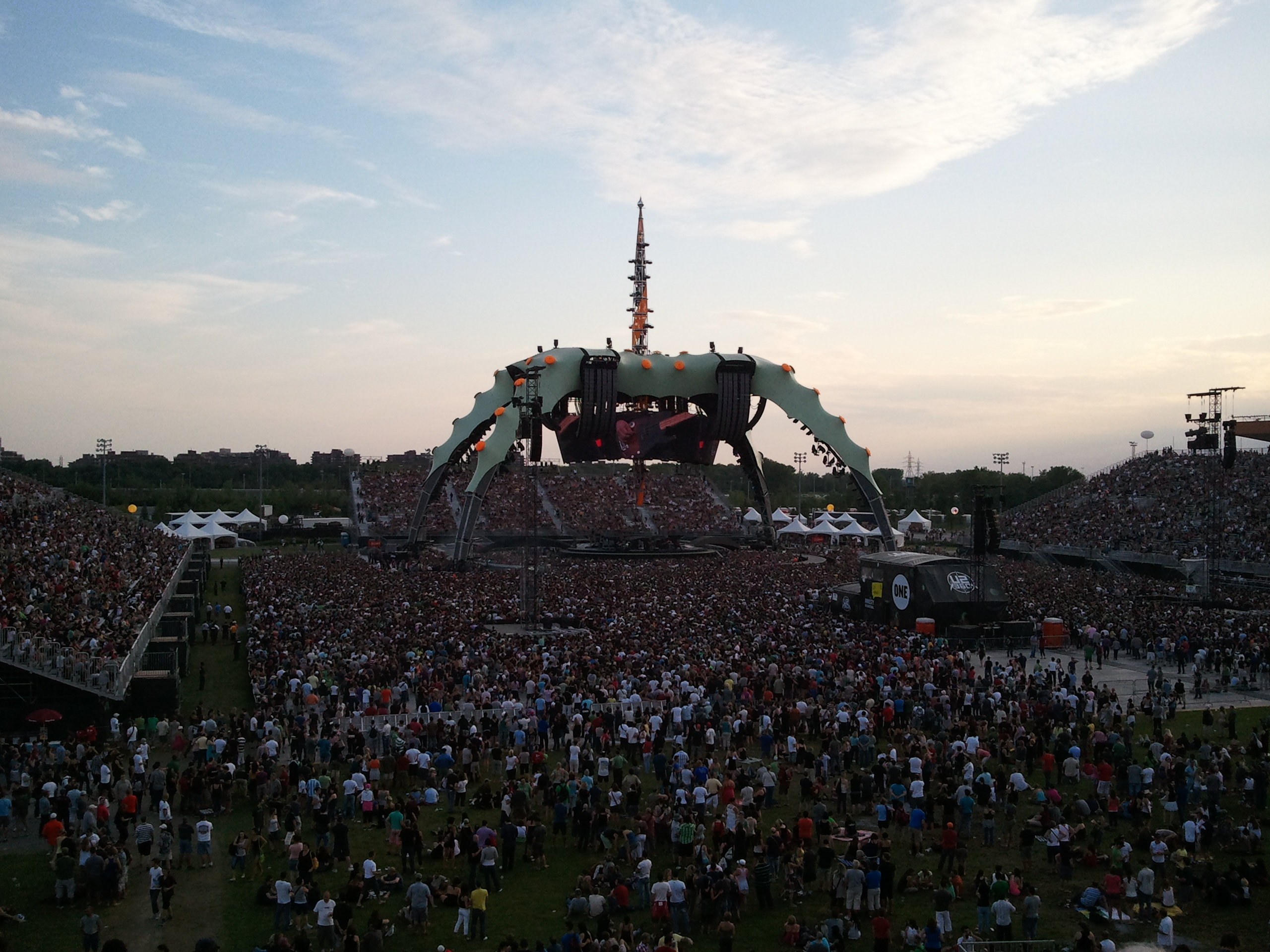 I don't know how I should begin to describe this phenomenal concert! When I first bought my tickets for this concert almost two years ago,  I didn't have grandiose expectations. Obviously I was expecting it to be good. It's Bono for crying out loud. But never had I imagined what I saw.
The first adventure of the day was getting to the stadium. It was a temporary stadium that was built especially for this concert. Our biggest arena holds about 20,000 fans. This stadium held 80,000. So yeah, big stadium means lots of people. A lot of people means packed subways. Highlight of the subway ride? Hundreds of people watching a U2 fan pee in a trash can while the train was stopped at a station. Result? Hundreds of people clapping when he finished.
Once we made it safely to the stadium, it was a matter of getting to our seats and play the waiting game. The opening act, Interpol were ok. I didn't really know their songs and I was anxious to see U2 at that point. Around 9:15pm, U2 finally came on stage and the next 2.5 hours were absolutely amazing. The theme of the concert was astronomy, with special messages from space. They obviously played the classic songs: Sunday Bloody Sunday, Even Better Than The Real Thing, Beautiful Day, Elevation, Walk On, One… just to name a few. Once the sun set, the lights from the stage illuminated the entire area. It was simply amazing! Towards the end of the show, the lights were shut and fans were asked to open their cell phones. All you saw were 80,000 fans with their cell phone lights under a pitch black sky. It was stunning!
What more to say? The man is full of energy! He knows how to put on a good show. And of course, anything is possible when you have the cash:  The stage, the lighting, the moving bridges… It was all awesome! The 360 Tour will most probably be the best concert I'll ever see in my life! Ok, I hope not! I can get used to seeing extraordinary shows more often.

About The Author
Related posts