Sean Paul at the International Balloon Festival of Saint-Jean-Sur-Richelieu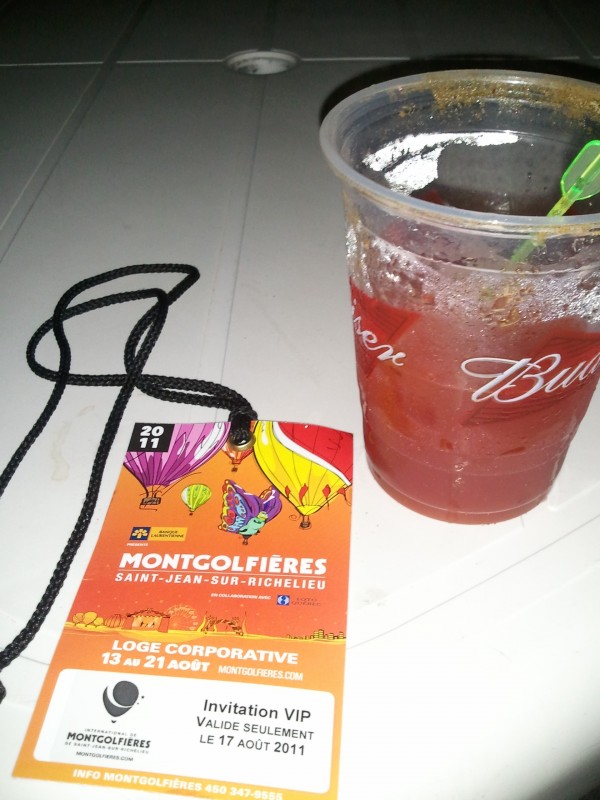 Since my friend landed a job in marketing at a major airline company, I, as her friend, benefit from some of its perks. Every now and then, she'll get tickets for events in the Montreal area and so, on Wednesday, four of us had VIP treatment at the Sean Paul concert at the Festival des Montgolfieres in St-Jean-sur-Richelieu. This hot-air balloon fest is the biggest of its kind in Canada. It attracts over 40,000 visitors yearly, from family to friends to couples.
It's 5:45pm, I fly out of the office and head to my friend's house so we can hop in the car and hit the road! The drive to St-Jean-sur-Richelieu is about an hour, with an extra 15 mins because we managed to get lost on the way. We`re four girls of course! Having VIP passes to the event, we skipped the parking headache and headed straight to a reserved area. It was around 8:15pm when we parked and all four of us were starving by this time. We were an hour late for the buffet but who was counting? (Ok, maybe are stomachs were growling a little) As we walked towards the loge area, it seemed like I was on a tv show. I felt like I was at one of those town fairs with rides, people and food! I felt like a kid all over again! We finally made our way to the loge which was located right by the stage. Luckily for us, there was still some food left so we got to enjoy the couscous salad, pasta salad, fish, brochettes and olives. The desert table had a sugar pie, chocolate cake and carrot cake. (Our stomachs were delighted!) But what really made our night was the open bar. We weren't expecting it but we remained quite satisfied with the extra perk! As we waited for Sean Paul to start rockin' the house, the hot-air balloons would illuminate all at the same time. It was so beautiful to see! After a few minutes of waiting and laughing, he finally came onstage and we enjoyed his Jamaican influenced songs for the next hour and a half. We were all reminiscing our clubbing days in college. Man I'm getting old!
All in all, it was good music, good music and most importantly, great company! It was a great night among girls!
[youtube=http://www.youtube.com/watch?v=eLKK66ixYvc]
About The Author
Related posts