Planning a Camping Trip
With the long week-end approaching, Nara and I are particularly excited because it means we'll be seeing each other! With her living in Toronto and I in Montreal, we normally make it a point to see each other every few months. But unfortunately, the last time we saw each other was February so we are long overdue to spend some time together and with friends. For the both of us, long week-end normally translates in road-trip, and so, we are planning for a camping trip at Bon Echo Provincial park in Ontario. Although it's a few hours away from both of our cities, it's renowned to be a good provincial park and we're looking forward to it.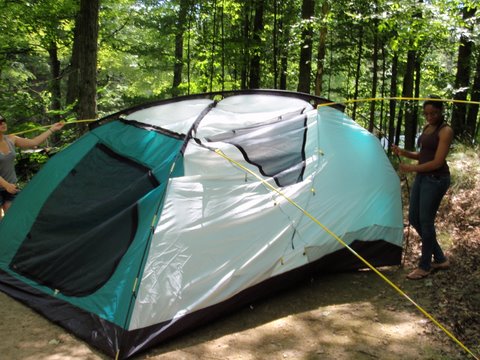 When most people hear the word "camping", they think about mosquitoes, lack of bathrooms, dirt, etc. That would probably be a good description for rustic camping but provincial parks in Canada are well equipped. So the camping we're referring to is with nearby bathroom facilities, electricity and water. I'll save the rustic camping occasions when I'm backpacking somewhere exotic. With only a few days away from leaving on a camping trip, I need to think of items to pack.
Tent, sleeping bags, mattresses and tarp: These are pretty much the basic necessities for camping. Putting up the tent will be an interesting task of its own but we should be able to put it up without too much difficulty. Tarp is always useful when it rains. I normally put one over the tent and keep an extra one in the car to put over the table if it rains.
Hammer, machete knife, flashlight and lantern: These items will also come in very useful. We'll need a hammer to put up the tent. The knife is always useful, either to cut food or difficult items to cut with a regular knife. The flashlight and lanterns will be handy once it's dark.
Camping/portable stove and grill for campfire: The portable stove is not a necessary item because you can easily cook using the fire and a grill. But, since I mentioned that I'm going on a slightly more luxurious camping trip, the portable stove is coming with up. I plan to make the eggs or boil water or tea or even make some coffee.
Plastic plates, garbage bags, cloths, dish soap and pan: While trying to use plastic plates and utensils to eat, we'll still need to bring a pan for whatever we need to cook on the stove. It's always to have a back-up plan. For example, I normally cook eggs in the pan but if it's windy one night and we're having trouble keeping the fire going, at least I can cook the food in a pan. Which then needs to be washed in dried so we need to make sure to bring cloths and dish soap. Garbage bags always come in handy for your garbage, of course.
Food and cooler: The best part of it all is the food of course! To keep things simple, I normally bring burgers, brochettes, corn on the cob and vegetables. They are simple to cook and so tasty when cooked on a fire. I can't forget to bring other necessities such as spices and oils to marinate the food. The cooler should be filled with ice to keep meats and dairy products cold at all time.
Personal items: This is where you personal items comes in such as clothes, bathing suit, mosquito repellant, sun screen, soap, shampoo, towels. Most camping grounds do have showers that you can enjoy. If not, you can always stay stinky for a few days. Do avoid bringing perfume based products because it will attract the mosquitoes!
All in all, camping is fun and relaxing! To ensure a good trip, do be sure to leave your food in the car at night and tie your garbage back high up to avoid unexpected surprises at night. Enjoy!
About The Author
Related posts