Camping at Bon Echo Provincial Park
The best part of September is spending your evening around the fire with a hoodie. It's the perfect time of the year to go camping and that's exactly what I did with friends. Nara and I finally had the opportunity to hang out, after 6 months! Who says camping can't be fun?!
Bon Echo is a provincial park located by highway 41. We reserved two lots at the Sawmil  campsite, to the left of the park entrance. We were a 5-10mins walk to the closest beach (North Beach) and a 15mins walk to the main beach. The main beach is stretched lengthwise, with just enough sand for people to lay down and play beach volleyball.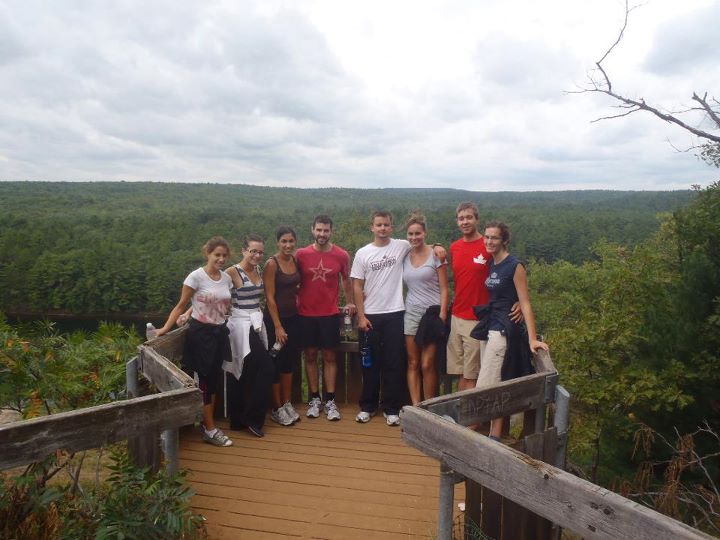 When camping or visiting Bon Echo, one will quickly realize how "the rock" will gain a lot of importance. So on the cloudy day, our group decided to take a ferry (~$3,00) across to the rock and embark on a 1 km hike. You can choose to canoe over to the rock or take the ferry. The hike up is relatively easy and accessible for both adults and kids. It provides hikers with a nice view of the lake. Definitely worth it if it's a cloudy day.
Camping Fire 101
To start a fire, you need kindle wood and regular wood. The best way is to create a tippie with your wood, where the kindle wood is in the inside and the bigger pieces of wood on the outside. The trick is to light the kindle wood first (using a small piece of wood or paper) so that it then lights up the bigger pieces.
Kindle wood in simply smaller pieces of the bigger logs. The goal of adding the kindle wood is so that it picks up the fire quicker and then transfer the fire over to the bigger logs.
When fire is decreasing or not burning properly, take a plate and air it. The oxygen will boost the fire.
Roasting Marshmallows
Going camping without marshmallow is a no-no! I'm personally not a fan of smores but I found my own coup de Coeur this weekend!
Find a stick in the woods and clean the tip of it using a knife. Then put your stick close to the coals in the fire to disinfect your stick.
Place a marshmallow at the tip of your stick and put it in the fire. The trick is not to place your marshmallow directly on the fire but at the bottom of the coals. Make sure not to place it too close because it will start to burn after a few seconds.
Once your marshmallow is ready, place a macaroon (coconut chocolate) inside your melting marshmallow and enjoy!!!!
About The Author
Related posts