2 More Days until My PERU ADVENTURE!
Two more days until I fly out to Cusco! I am so excited but at the same time, there has been so much preparation for this trip that everyday for the last few weeks has been hectic. Even though it's a holiday, the prep that goes into a backpacking trip can be overwhelming. All the small things to be done and organize for a trip like this can be exhausting. But the great thing about all this preparation is that once you get on that plane for your destination, you know that everything is in order for an amazing trip.
Below is a glimpse of what I did to prepare for my 2011 PERU adventure!
First stage of the trip was to find the cheapest, yet quickest way to get from Toronto to Cuzco. The flight was booked about a month ago, but looking for good flights took me about two weeks to find. I scanned through so many different travel sites and I even compared the prices and times with travel agents. I finally found a great flight after lots of research.
Flight
Leaving Toronto with American Airlines on Oct 5 and arrive in JFK in the evening. We leave from JFK with Lan Chile airlines for Lima. Arriving in Lima in the early morning to catch our final flight to Cuzco at 8am. Arriving in Cuzco, October 6 at 9am. (No time change). This flight was one of the best connection flights I found, that also included a reasonable price too. Costing me only $1,100 return.
The second step was to book the train to Machu Picchu.  I knew we wouldn't have time to hike to the peak, since our trip isn't overly long. So booking the train and entrance fee for the park was the second most important thing to organize. The train was booked online on Perurail. With only a few spots left (surprising since I booked a month ahead of time), we booked the train that goes from the sacred valley to Cuzco. One way cost us $34USD and the return train ride was $60USD, since we decided to return in "style". Booking the entrance fee to the park was a bit confusing considering how many different options there were to choose from. I read through many reviews online and recommendations. Many people had different ideas in how to book the entrance fee for the park, however I decided to book where many people opinions were similar. I booked online on the government of Peru website for national parks. It was extremely difficult since the website was all in Spanish (my Spanish isn't very good). The entrance fee cost me $50USD. Pretty expensive I thought, but totally worth it. We paid a little extra to get the time slot of the sunrise. I really wanted to get on the first bus ride to the park in order to experience the sunrise over the village.
The third step was to organize the hostels and where we would be staying for each night. I booked the reservations on hostel world. I picked the most convenient and reasonably priced hostels that also included many services like Internet access, lockers, and breakfast. The hostel bookings didn't take me too long, since I have booked many hostels in previous backpacking trips.
After all this booking and scheduling for a 10 days trip, the small elements started to approach. The small things included, getting travel insurance, travel medication, Peruvian money, clothing (for mild, wet, and hot weather), shoes, and carry on elements.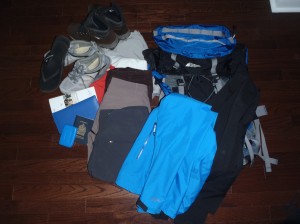 The travel medication was one of the biggest challenges, since we had to schedule an appointment with a travel doctor, figure out how much the meds would cost or if our work insurance will cover it, and when to take the meds during the trip. The first medication was getting the yellow fever vaccine. We found out, that you can't enter the country without showing proof that you have the vaccine. The yellow fever shot cost us $150CAD each. It was a little steep. The next medication was the malaria pills and travel diarrhea pills. I was thankfully lucky that my work insurance covered it, since it was total of $175CAD, but my boyfriend wasn't so lucky. We couldn't believe how expensive it cost to have these meds, in order to travel sick free. After all this med stuff we had to find waterproof, windproof and bug-proof wear for the Amazon. I usually go to Mountain Equipment Co-op to purchase most of my gear. I did purchase a few pants for the trip that are bug proof. But we also went to the Buffalo to find waterproof – Gore-Tex wear for jackets. Our clothing gear cost about $250 for everything. It wasn't as expensive as what most outdoor gear could cost.
Once all the small things were done, I decided to layout everything that I am bringing. I was overly surprised in how little I packed. I prefer it this way, since my backpack won't be overly heavy. So now I only have two more days for any last minute planning and I believe I have nothing left to plan! YAY. It's just time to get more excited!!!
About The Author
Related posts