A Journal Filled With Great Memories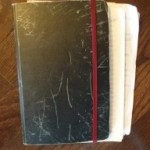 The weekend before I was off to Peru, I went to visit my parents in Peterborough, Ontario, and my hometown. I usually try to visit once a month, and especially if there is a holiday or an event taking place. This weekend we celebrated Canadian Thanksgiving as well as my dad's birthday. Since I will be missing thanksgiving and his birthday due to my Peru trip. So it was good visit, but what was so surprising was that due to my parents purchasing new bedroom furniture I had to help move their stuff into the basement (spare bedroom). As I was moving lots of old books, photo albums I came across a small stash of pictures and rather small books laying on the ground below a bookcase. I went through them and surprising enough I found my 2005 Europe journal. I was so happy and over the "moon" I barely could think of anything but wanting to read a few pages. Years ago I thought I lost it, from moving from Peterborough to Toronto. So I never bothered to really explore my parent's basement for it. So it was a very happy moment for me! There are so many great memories in this journal that, I decided today I would share a one with you!
Here is just one glimpse of my 2005  - 1 year spent in Europe – Journal!
May 29, 2005 – 1st day in Sicily, Palermo
After a very long train rides from Rome, I finally arrive in Palermo, Sicily at 8am on May 29th. It was a very uncomfortable journey due to this one guy sitting across from me chewing gum the entire trip, like it was horsemeat. It was so annoying! So I didn't get any sleep and my first thought was to find a BED! I didn't book at hostel, since I thought that I could find one within the city limits somewhere. Plus I heard from other backpackers that there was this amazing hostel located right on the waterfront that included a beach. After two buses and not knowing where I was really going I finally found the hostel that everyone was talking about. It was located about 25 minutes outside the city, but it was totally worth asking the locals and getting the bus driver annoyed. It was a little green cabin looking hostel that I thought was so cute. I arrived at the hostel at 1:30 in the afternoon, but  had no idea that the hostel locked all doors at noon until 3pm. I had to wait for a few hours, in the boiling hot sun. I wanted to die, it was so incredibly hot with no shade around that I felt like I was melting. I tried to find shade near this big rock, but it wasn't the greatest. Finally when they opened I came in thinking OH MY I need a swim or a cold shower! The hostel (International hostelling) only came out to 72EUROs for four nights. It was super cheap! It even included breakfast.
After I dropped my bags off in the room, I hopped into the sea! It was such amazing feeling, cool water and hot sun! I felt like I was now on holiday!! I spent the rest of the day swimming and napping on the beach. Later that evening I bumped into a few South Americans and Italians who were traveling around the Island also. The evening was spent dancing on the beach around a fire and surrounded by tones of beer and amazing food! It was one of the best feelings, to meet new people and have just a fun night! It was even more exciting when one of the Italian guys cracked open some fireworks. It was one great hostel/beach party!
This was only one of my days spent out of my Europe Trip, that was amazing! There were some downfalls, like getting no sleep on a train but in the end it couldn't have ended up any more lovely! Backpacking I find is always like this, it has its twist and turns!
About The Author
Related posts