2nd Day in Peru – Aguas Calientes
Our second day in Peru was filled with much excitement. We were on our way to the village of Aguas Calientes, the "doorway town" to Machu Picchu. We planned our journey from Cusco to Aguas Calientes a few months prior to the trip, but we never really anticipated how crazy this journey would end up being.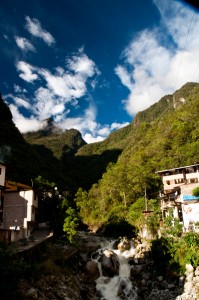 Our first step was to figure out how to reach the village of Ollantaytambo, since this was the town we were to catch our train to Aguas Calientes. I knew we had tons of time to get to Ollantaytambo considering that our train was scheduled at 6pm that evening, but at the same time I wanted to tour around the village and explore a bit of the Sacred Valley. So I planned to arrive in the village of Ollantaytambo around noon.
Around 10am in the morning we ended up taking a semi-private taxi from Cusco to Ollantaytambo, which ended up to be a journey of two hours. By semi-private, I mean there were other locals in the taxi. The drive was uncomfortable and slightly scary given that our driver was gliding around tight corners and missing on coming traffic by just inches. Though at the same time it was a thrill to experience how it actually feels to be driven by a true local Peruvian. As we drove within the Andes, the beauty surrounding us was astonishing. With its patterned farm fields and vast terrain the region's agriculture was magnificent. We couldn't stop taking pictures and staring. But as soon as we arrived in Ollantaytambo, the view got even better. Located in the western end of the Sacred Valley and built on top of original Inca foundations, the village was breathtaking. It was so incredible, that I wanted to get exploring right away.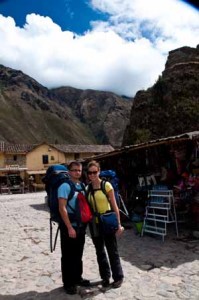 There were two main tourist attractions in the village, the Fortress and the market. The site of the fortress was lovely, with its several ancient burial sites and stone steps that were cut out so perfectly. Both Konrad and I were scrambling around with our cameras for a few hours. But as we came to the market, our eyes were fixed on many different small handcraft items. I quickly knew I would be purchasing tons of souvenirs during this trip considering how cute they all were.
Around 6pm we boarded the train to Aguas Calientes. The train was filled with tourists, just like us. But what was so incredible, was the feeling knowing that we were off to see one of the 7 wonders of the world – Machu Picchu. You could even feel how much excitement was in the atmosphere on the train. Although, the bad part about the train was it was just as scary as the taxi journey over to Ollantaytambo. With the train swinging side to side and feeling a little off balance I kind of wanted to get to Aguas Calientes pretty quickly. Plus, since it was pitch dark outside, and not being able to see anything, it was even a little more nerve racking. After the two hours of a train ride, we finally made it to the city of where the Machu Picchu journey would begin! I was so happy to reach our hostel, have some food and to just sleep. We went to bed fairly early since we wanted to wake up at 5am to be at Machu Picchu for 6am. But sleeping was so difficult, for I was way to excited, for the next day! MACHU PICCHU day!!!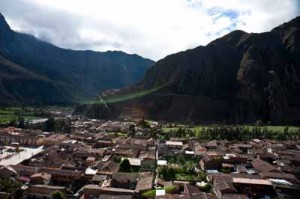 About The Author
Related posts