The best girly activities in five iconic European cities
Women all over the world enjoy going on short getaways with their female friends, with the chief aim being to relax and unwind away from the all usual stresses and strains of everyday life.
Some people like to unwind in a spa, some have a passion for fashion, some like to party night after night and others like to be wined and dined in style.
Here are five suggestions of possible girly activities for anyone thinking of heading to iconic European cities such as Barcelona, Berlin, Cardiff, Copenhagen or London in the not too distant future.
The Academy of Burlesque & Cabaret (Cardiff)    
The burlesque boom continues and more and more women, it seems, want to learn all about the art of seduction. You can do precisely that at Cardiff's Academy of Burlesque & Cabaret in the form of interesting and entertaining tutorial lessons that are fun and bound to get a few pulses racing. With hotels in Cardiff Wales to fit every budget and classes to suit beginners and experts alike, women of all ages can get involved and do everything from the can-can to something a little more seductive.
The Badeschiff (Berlin)
The German capital city of Berlin has a real diverse and vibrant entertainment scene and proof of that can be found at The Badeschiff. It looks like an ordinary outdoor swimming on first inspection, but it's more than that. Much more, in fact. A floating pool, open-air bar and a beach-style sunbathing area can be found onsite and visitors can also enjoy massages, expert fitness tuition, concerts and nightclub parties. This really is the place to go and been seen during the summer months as well as in the winter, when the saunas ensure you keep the cold at bay.
El Born (Barcelona)
There's really no need to talk up Barcelona because it deserves the lofty praise it so often receives from tourists. Part of the charm and appeal of a city such as Barcelona is areas such as El Born. The maze of streets is lined with inviting bars, cafes, restaurants and shops, as well as a beautiful cathedral to have a look around. The beach is also just a 10-minute walk away, which means a weekend in Barcelona can bring together various different aspect – sun, sea, sand, shopping and sangria!
Christiania (Copenhagen)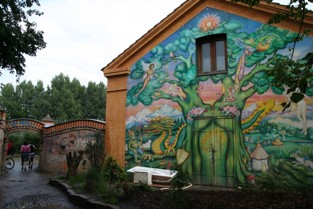 Copenhagen is an extremely expensive city to visit. Fortunately, though, Christiania (Danish Website) is part of the Danish city where you can find plenty of bargain buys and enjoy some cut-price food and drink. For those of you who may have never heard of Christiania, it's a commune famous for its lax laws, which means pretty much anything goes. Explore the weird and wonderful shops here, listen to live music in one of the bars or indulge in a bit of people spotting and simply watch the world go by.
Dans le Noir (London)
Every girl enjoys fine dining and the food served up at Dans le Noir will get your taste buds tingling like no other restaurant in Europe. The concept behind Dans le Noir is simple yet delivers spectacular results. Diners go on a culinary journey as they eat and drink in the dark, which is intended to heighten the senses. To make it a real night to remember then combine a visit to this trendy London eatery with a trip to a see a show in the city's glamorous West End. From Legally Blonde to Shrek, there's bound to be a show that you fancy watching.
About The Author
Related posts