The Island of Tenerife
The island of Tenerife is more than a beautiful island; it is an island filled with a rich variety of attractions such many extraordinary small villages, and a large Volcano. The island holds gorgeous sandy beaches to the south and lunar landscapes to the north, that make this the largest Canary Island.
A few of the charming towns you should visit are Santa Cruz, La Orotava, and Garachico. Santa Cruz is the capital of Tenerife, where the town is a bustling and busy tourist destination in Spain. The top two attractions to see in Santa Cruz is the Plaza de Espana, which is located on the seafront and consists of the best shopping places. The second is taking a stroll around the city to capture the lovely architecture the island holds. La Orotave is one of the old towns on the island that is famous for it's botanical garden called "La Hijuela del Botanico". It consists of 3,000 or more different tropical plants. As for the small fishing port town called Garachico. It's main attraction is the 1706 fishing port that includes a very unique architecture style. These three towns are always busy during the summer months, welcoming over 7 million.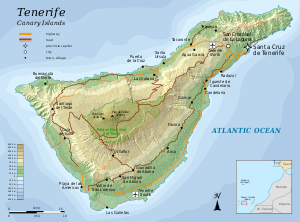 Tenerife by night is a different scene compared to the day . The towns become much more alive and tourists fill the streets to find the best or nearest nightclub. The best night clubs to adventure off to are mainly in the south, the famous Playa De Las Americas and Los Cristianos are the top two clubs to experience. The music in Tenerife is not what you expect; it is a range of house, to 80's. Therefore you could never get bored.
The island of Tenerife is a place that includes everything, all-inclusive hotels, lovely beaches, hiking, water sports, and a great nightlife.
About The Author
Related posts