Toronto filmmaker's indie-movie trailer launches!
There is a lot more to this journey than a travel ticket.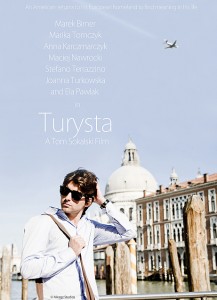 Have you ever felt lost no matter where you went? Have you ever felt confused no matter how clearly you thought you wanted something?
Dealing with existentialist themes many young people go through on their way to adulthood, Turysta is an indie-film written and directed by Tom Sokalski, starring Marek Birner, Anna Karczmarczyk known for her role in Mall Girls and Stefano Terrazzino.
It is about an American who returns to his European homeland in search of his identity which is lost as a result of growing up in two clashing cultures. To make things more complicated, his heart is split between two women pulling him in opposite directions.
You will get a real sense of travelling watching this movie, following the main character from Paris to the south of Italy, only to further accompany him on his growing troubled adventures as he moves from place to place.
Shot in beautiful locations across Europe and North America, Turysta is a visually captivating picture; however its strength lies in the plot.
Because it is enriched by universal themes such as: women, love, lust, money, clashing cultures and a search for identity, all of us can relate to one or more of these themes from experience at different stages in our lives.
Turysta is an honest portrayal reflecting the inner battles every individual undermines, yet has to confront. The breathtaking locations and costume design are only the icing on the cake!
To watch the official teaser and follow updates, click here for the Turysta Facebook fan page.
If you prefer to see the teaser directly,click here for a quick stream on YouTube.
About The Author
Related posts