Launching the new and improved OTB site….soon.
In just a few weeks from now, OFF TRACK BACKPACKING will be launching a NEW site! It will include more pages/articles, resources for backpackers, trip planning, pictures to inspire you, and a chance for you to share your travel stories, by writing on our blog. We are very excited to take this next step of our blog, to make it more informative, and helpful for you! Please join us soon, in celebrating the new launch of OFF TRACK BACKPACKING.
A little history
Tanya and myself started this blog over two years ago and it all started because we wanted to share our travel experiences with you. And thanks to your support we have successful made a travel blog become a helpful resource for travelers of all ages.
Tanya and myself have full-time jobs, but our true passion has always been traveling. Which is why a few times a year we take adventurous trips, to explore new cultures. And overall we have visited to 50 countries and still counting. With these travel experiences we have gathered many wonderful, and unique stories that are written on OTB.To us, it's a great delight to write about something we love so much and also hearing your travel stories. Even though the both of us have full-time jobs in Canada, we are always updating our blog with informative articles. Although, there are days where it can be difficult to find the time to write, with work and completing extra school credits (Masters), and having boyfriends (Nara now has a Fiancé – so wedding planning has begun). Yet, when it comes down to enjoying a latte and writing an article, Tanya and I LOVE it!!!
So we both hope that you enjoy our articles as much as we love writing them. We also love to hear your feedback, so please tell us what you think of OTB!!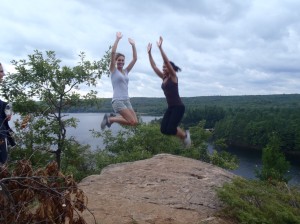 About The Author
Related posts