Getting around Turkey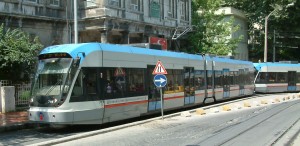 From coastline to ruins and villages, Turkey is a country for all types of travelers. But getting around Turkey can always be a bit tricky. There is abundance of ways to get around the country, from boat, bus, train, car/motorcycle, planes, hitching, and bicycles.  Yet, learning what transportation route is the most affordable, safe, quickest, and effective can be a bit difficult considering how many options there are. So before you go backpacking Turkey, plan out your trip according to your style of travel.
Going by bus/ tram is the most popular means of transport. Turkey has one of the best bus systems in the region. The buses are comfortable, clean, and offer food/drink services for those long journeys across the country. (These buses are generally for tourists, which is why most of them have large luggage compartments.) Almost all of the main tourist destinations within Turkey have central bus stations that are called Otogar. If you're traveling within small villages, buses are the best option to select. They're the most convenient, reliable, and cheapest, but they might not be the most attractive. If you're backpacking, the minibuses ( village transport) are a smart choice. The best bus companies to book with for long journeys are; Varan, Kamil Koc, and Boss Turizm. The fares of these buses usually range in the same price line, but it all depends on where you're going. Many of the times you won't be spending more than $40 a bus journey to another city or so.
If you're planning on renting a car for your trip, be sure to take advantage of the freedom to see the countryside and the coastlines. There are endless amounts of small unique villages, hidden beyond little back roads to discover. The advantage of having a car is having the opportunity to feel, taste, explore, see how the locals live and get a feel of the true Turkish culture. But when planning your trip and Turkey car hire, be sure to have an idea of what cities and villages you plan to visit. Considering how large the country is, it may take you a while to drive all the long distances. When renting a car, you must be 21 years old and be sure to get car insurance. There might be small fee, but its worth it in case of an accident. Plus when renting a car don't pay by credit card, since you will have to leave around $500 or more for a deposit. That's a lot to put down, plus remember the safety of your card too.
The train services across the country are average means of transport, mostly because they're fairly old and not well-kept. The trains are easy to get around, but the comfort level maybe a stretch from nice. Although, if you plan your trip to use all the best express trains, you will come across lovely scenery, and chance to enjoy the entire country's terrain quickly. The express trains are fast, but not always reliable and usually never on time. But, if you're a no-rush traveler who wants to explore all the famous Turkish sites, the trains would be best method of transportation for you. The costs of the trains are very similar to how Europe train services work, costly for long distances but that's if you want 1st class. The 2nd class seats aren't so expensive, they're very affordable for backpackers on a budget and who plan to see most of the country's tourist highlights.
These three means of transportation would be your best options, unless you are considering of having some fun and hitchhiking your way around the country.
About The Author
Related posts