The dream of travelling the world is not over
Like most people you may have dreamt of travelling the world but somewhere along the way life simply caught up, perhaps your career took priority or a flourishing love kept you grounded. The dream of travelling the world just didn't materialise and while you may not regret your decision the dream is still quietly burning inside, what if? Should I have? Can I still do it? The answer to the last question is a simple one, Yes!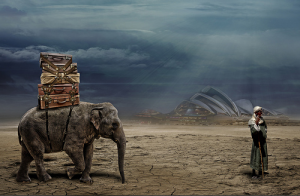 The idea of staying in a crowded hostel doesn't sound appealing to everyone but that's because there are others to travel the world. Below I list just a handful of them:
Bicycle
Get on your bike, no I'm not kidding. Often people are put off by the rigorous exercise so often associated with bicycle holidays but you shouldn't worry about that. Seeing the world doesn't mean you have to be as fit as Lance Armstrong, the beautiful thing about cycling is that you can go at your own pace. Travelling on a bicycle allows you to really see the surroundings through the eyes of the locals.
Cruises
The great thing about seeing the world cruising is that you get to do it all in luxury. All the major cruise companies offer Cruises from Southampton and travel to destinations all over the world from the Caribbean, to Alaska and Dubai to the Baltics plus everything in between. One of the benefits of a cruise holiday is that you don't have to worry about how much you pack or even carrying it, for seeing the world in luxury this is by far the best choice, get saving.
Teach
Countries all over the world are crying out for English teachers, why not kill two birds with one stone and teach while you travel. This is by far the most rewarding way of travelling; 3 months teaching in Thailand to 4 months teaching in South America, as an added incentive some school will even cover your expenses. This isn't for everybody but if you like kids, travelling and generally like the feeling of doing good, you will love this experience.
About The Author
Related posts