Great Places to Backpack in South America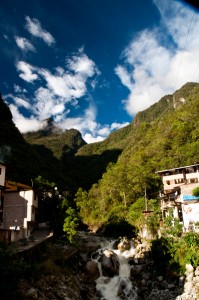 South America is a huge continent of diverse people's, nations, and cultures. The continent is also home to some of the most picturesque and accessible nature-areas in the world, as well as many local economies centered on tourism with an emphasis on simple living and affordability. Geographically, South America also offers a wide variety of landscapes to explore. From dense jungles and rainforests to snow-covered mountain ranges and thin air, South America offers much, and all you need is a backpack.
Patagonia, Argentina
The huge area designated as "Patagonia" stretches from mid-Argentina, into Chile, and all the way to the Southern tip of Ushuaia. The area is home to absolutely stunning glaciers, all of which are suprisingly dissimilar. Frozen landscapes extending up into and through the mountains are one of the main attractions here, although there are many cultural and more populated areas in between the major destinations too, making Patagonia a favorite destination for backpackers. This destination is a popular spot for vocational tourism, an enviable profession to be sure. In fact, many people decide to study for tourism degrees after making their own trips to Patagonia.
San Pedro de Atacama, Chile
Deserts, high skies, and stars are the main attraction in this village midpoint between Chile and Bolivia. This spot is a popular destination for those traveling from Northern Argentina as well. The village is quiet and relatively uneventful (keep in mind its in the middle of a dry, desert landscape). Bikes are always available for rent, and of course two legs and a backpack are always a viable option. Head out in any direction and get some amazing photos from the many desert vistas, but keep in mind that you are likely to not find any other humans there (which is part of this spot's allure).
Machu Picchu, Peru
You have heard of this spot and for good reason. Nestled within the imposing Peruvian mountains, it is definitely one of the must-see spots in the world. What could be better than backpacking through rolling mountains and discovering ancient ruins? Take the Lares Trek–it will not disappoint, but be sure to search Global Travel Blogs for more details on this backpacking Mecca.
Salar de Uyuni, Bolivia
Home to more than 10,000 square kilometers of salt, Salar de Uyuni is one of the most popular destinations in the world for backpackers. The area can be visited from Uyuni in southern Bolivia on a day trip involving trips to the various salty sights. We recommend traveling through the deserts of San Pedro de Atacama in Chile in a Jeep in order to see more of this amazing spot.
Cuenca, Ecuador
So far, most of the recommended destinations suggested have been more remote destinations. Ceunca, Ecuador provides a different appeal for backpackers: a very affordable spot with plenty of nice towns in and on the way. This area is not necessarily known for vibrant nightlife (this is backpacking after all); however, the food is cheap and amazing. Eating well for cheap makes any backpacking trip much better, agreed?
Iguazu Falls, Brazil/Argentina
This place is great for waterfall enthusiasts. You are a waterfall enthusiast just like everyone else because waterfalls are undeniably worthy of everyone's enthusiasm. This destination brings together everything that makes backpacking great: affordability, world-class sights, and a new destination every day. There is also an abundance of hostels competing for your business, as this area is a popular destination for travelers of all kinds.
South America has no shortage of great spots for backpackers of all experience levels. This list is, however, hardly comprehensive, so check out the following resources for more great reviews and ideas for backpacking South America.
Backpacking South America – this website takes a destination-by-destination approach and provides travelers of all kinds with great information on South America.
About The Author
Related posts