A Road Trip in South Africa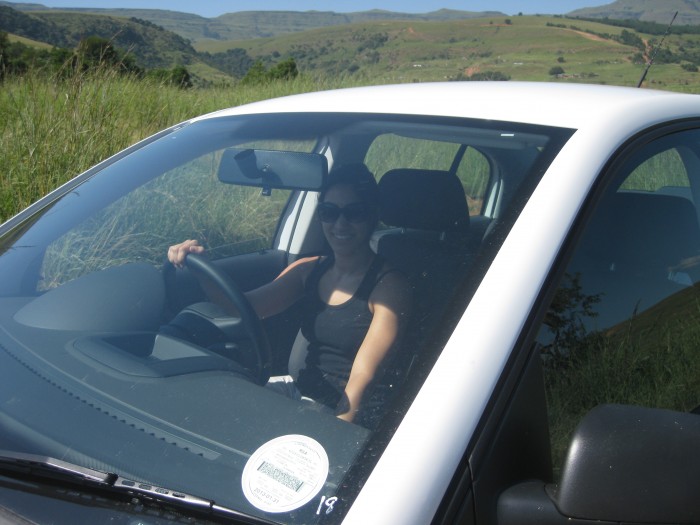 When planning our trip to South Africa, it seemed obvious that renting a car would be the best option in discovering this country. Loads of people recommended it, so why not have the luxury of visiting a new country in a rental car? And so, that's exactly what we did. We booked the best small car on expedia.ca for about CDN$750 for 18 days with unlimited kilometers. Great deal we thought!
Once we were ready to begin our drive to Drakensberg from Johannesburg, we headed to the Avis location to get our car where a little surprise was waiting for us. Due to our gold visa card's insurance coverage on car rentals, we had to decline the insurance offered by Avis. In the event of a collision, the visa insurance provided a better coverage than the Avis one. Because this was our first experience in driving not only in Africa, but also on the left side of the road, we thought declining the insurance with Avis was our safest bet. By doing so however, we lost the unlimited kilometers which meant that we were entitled to only 1800 km. And so we hopped in our car and began our drive to Drakensberg, a mountainous region in South Africa. During our drive, we saw orange strays of hay and crystal blue water surrounded by the mountains. The views were splendid! We were also quickly introduced to potholes when we reached a smaller road under construction. But given that we had the luxury of stopping the car and looking at the magnificent views during the drive, the potholes were quickly forgotten.
After a few hikes and cultural tours in the Drakensberg region, we began a 6.5 hour drive to Mthatha in the Eastern Cape. The drive was great because we drove through townships. We finally felt like we were in Africa, away from the tourists. The scenery was beautiful and the drive couldn't have been any better. We caught a few patches of the road that was in construction but everything went well. I actually expected more potholes on this section of the N2 so we were pleasantly surprised when the drive went smoothly.  Potholes are not the only thing to look out for when driving in South Africa. The next danger you are most likely to encounter when driving on the wild coast are animals. And let me tell you, those cows have the right of way if they are crossing the street. Potholes and animal crossings are the primary reasons why driving at night is not recommended in South Africa.
The initial plan was to drop-off the car in Mthatha and take a shuttle bus to our next remote destination of Bulungula. To our surprise, the Avis office was closed when we got there around 4pm on a Saturday so as any other unplanned backpacking trip, we changed our plans and decided to drive to Bulungula. One funny moment worth mentioning is our arrival at Mthatha airport. As we drove to the parking of the airport, my one and only question was: "where are the planes?" There was a crumbled airport and a few car rental offices, that's it! I literally compare the airport to the coliseum. The only difference is that there are apparently planes that depart from this airport. I have no idea from where!
We began the drive to Bulungula around 8:15am the next morning. The first part of the drive was easy. But as we drove more, the roads got bumpier and bumpier. The first 45 mins of the drive was on asphalt and the rest was on unpaved roads.   I'm surprised the car made it to Bulungula in one piece because we hit a lot of bumps on the way there. It was Sunday so we didn't cross many cars or people on the way there. We were so focused on getting to the lodge in one piece that our eyes were glued to the road. We finally made it without getting lost which was great achievement. Driving on an unpaved road like the one we drove on was well worth the effort after seeing the beach and lodge. It was like reaching paradise.
After a few memorable days in Bulungula, I was nervous for the bumpy drive back. The roads were wet and muddy when we left in the morning because it rained during the night. We saw so many kids on the roads, they were all walking to school. I can't believe these kids have to walk close to an hour every morning to get to school. We really take things for granted in the West. Hitchhiking is a common practice in South Africa since most people don't have a car. As we drove past the kids, some kids would put their thumbs up, asking us for a ride. Another little boy tried throwing a rock at the car when we didn't stop to give him a ride. Then, we tried to drive over a muddy ditch, we obviously got stuck. I got out of the car and saw both front wheels completely in the mud and the back wheels in the air. I was freaking out! I wish i had taken a picture of the car at that moment. We got really lucky because the second car that passed by us stopped and helped us push the car. And we were rescued! After a 3-hr bumpy ride to Mthatha, we were relieved to finally make it to the Avis office in one piece. As we parked the car, we noticed a missing wheel cap and thought "great"! The bill didn't settle well because we went over our kilometers for the week. There was a misunderstanding with the initial 1800km. Because we dropped our car one week after we rented, the allowable kilometers we reduced to about 800 km. So we had to pay an additional fee for every additional km. It took us an hour and a half to settle the bill but we finally did. A local man gave us a lift for free to the bus station. We were so happy to finally get there and see the other backpackers from the hostel. We waited for the Translux bus to arrive and off we went to Port Elizabeth.
All in all, we had a great experience with renting a car. You get to drive and stop in places you most likely would have never had the opportunity to do if traveling by bus. If I could give you one piece of advice it would be to make sure you understand your insurance coverage if you're covered by your work or credit card insurance. If you don't have unlimited km's, make sure you don't go over the limit because you will have a hefty price to pay. Otherwise, enjoy!
About The Author
Related posts