A Wine Tour in South Africa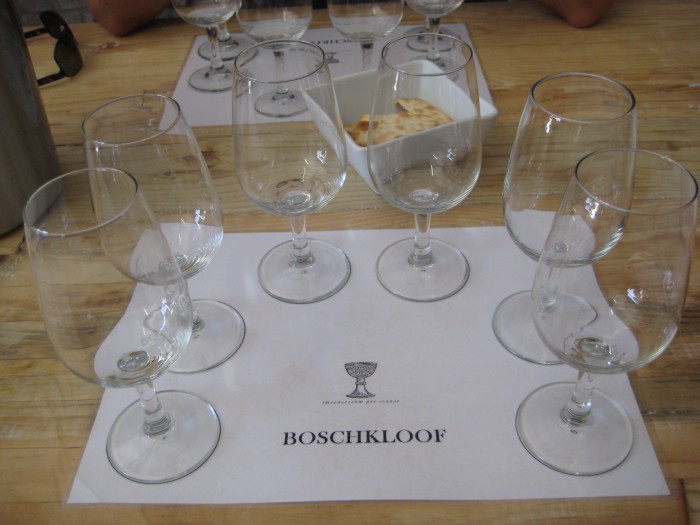 Even if you're not a wine junkie, you most probably know that South Africa is one of the top new world wine producer. If you didn't, well now you know! South Africa was introduced to wine when the Dutch arrived in South Africa. The first vineyard was introduced in Constantia which is the closest vineyard to Cape Town, perfect for a one day trip if you're tight on time. Otherwise, you can visit Stellenbosch or Franschhoek which are about an hour away from Cape Town. We decided to take a tour to Stellenbosch so we wouldn't have to worry about drinking and driving. And it's a good thing we took a tour because we began wine tasting at 10am and ended at about 6pm. Five vineyards and 30 glasses of wine later, let's just say we couldn't taste the differences in wine anymore.
I must say that the vineyards we visited got progressively better as the day went on. We decided to buy one bottles from each vineyard. What a great idea. I can't wait to open a bottle. It will bring back great memories from South Africa, that's for sure.
Interesting Facts that I learned during my tour:
Stellenbosch is knows for its wine making with Cabernet Sauvignon, Shiraz, Merlot and Pinotage wine grapes. Pinotage is a blend of Pinot Noir and Cinsaut that was created in South Africa.
Red wine is achieved by fermenting the juice and the skin of the grape while the fermentation of white wine is done using the grape juice only.
Yeast is necessary to begin the first fermentation. It converts the sugar into alcohol.
The second fermentation most often involves red wine sitting in oak barrels for a set period of time (depending on the wine maker). Barrels are toasted (light, medium or dark) so the wine can pick up its oak aromas. Barrels cost a few thousand dollars so wine makers will reuse their barrels a few times before buying new ones. This will of course impact the aroma of the wine.
A sommelier is a wine expert/professional.
So why do wine glasses have a stem? So you can see the color of the wine and so that your hands don't warm up the wine.
Wine Tasting Steps:
Before you taste wine, you need to look at your wine. Is it clear? Is it dark? For white wine, the lighter the color, the younger the wine is. For red wine, it's the opposite. If you're red wine is darker, it most probably means it's a young wine. Of course, there are other factors that come into play but you can always keep this in mind. You can also swirl your glass it to see how thick and how quickly the "legs" drip. This will determine if the wine is high in sugar and alcohol content. If the legs come down quickly, it means it's low in sugar and alcohol. And vice versa. Lastly, you can tip your glass to the side and see if the wine at the border is clearer than the middle part. This would tell you how concentrated your wine is. Sometimes, when the vineyards experiences a rainy season, the grapes are filled with water and that will have an impact in the concentration of the wine they make that year.
Once you know that, it's time to smell your wine and guess what aromas you smell? Does your wine smell fruity? Floral? Woody? Spicy? Like chemicals? Mineral?
Now, it's the fun part… let's taste the wine. This will confirm your smell of aromas. Does it really taste like lemon? Is the wine dry? Acid?
You're ultimately looking for a well-balanced wine. Meaning that there is a good level of sugar and acid. It can be disappointing when you smell nice aromas and when you actually taste the wine, it's very acid. Yuck! But all this to say, if you're in South Africa, or in any wine making region for that matter, do make a stop at the vineyard. It will be an interesting experience, guaranteed!
About The Author
Related posts