Back to Nature: Get Outdoors and Go Camping in France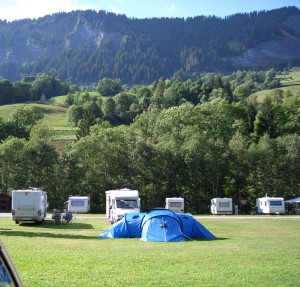 The countryside of France contains almost one half of the total campsites in Europe, boasting over 10,000 registered camping locations that range from primitive clearings to fully equipped caravan parks. Referred as "le camping sauvage" by the French, outdoor campsites in France are rated like hotels with classifications ranging from one star to four stars sites.
France has five National Parks in the Southwest region of the country and numerous Regional Parks in scenic areas like Lorraine, Millevaches en Limousin, Grandes Causses and the French Riviera beaches. The parks accept reservations throughout the year but they are highly recommended if you plan to camp during the months of July and August because campsites fill to capacity during the busy season.
Approximately 1500 of the campsites in France are rated as one star, meaning they are typically quite primitive and located off-the-beaten path with only cold water for washing and cooking. The two star campgrounds are the most numerous with 4,000 sites available that have individual shower cubicles with hot water and power stations for small appliances. The 2,000 three star campsites have bi-lingual wardens who manage the property and offer private washing cabins, playgrounds, food stores and even safety deposit boxes for valuables. The most exclusive are the four star rated accommodations with only 700 campsites located in large park-like campgrounds that cater to caravans, long-term campers and special events. These facilities include all the above amenities along with paved parking areas, sinks with hot water for washing clothes and dishes and common rooms with games and entertainment.
Another popular venue for vacationers ready to get back to nature is known as "farm camping" where private land owners set aside sections of their property exclusively for campers. Usually these sites are quite well equipped with electric power, hot water basins and private toilets. Visitors can make reservations to pitch tents, park caravans or rent rustic cabins on these farms just like in the public parks, but usually for a slightly higher charge.
Some vineyards have banded together in a promotional campaign known as ""France Passion" where they invite caravan travellers to stay up to 24 hours on their property free of charge. These landowners invite their camping guests to sample homemade products that can range from fresh bread to local honey to specialty spirits. Some even offer activities like hot air balloon rides, fishing excursions, organic gardening lessons or guided wilderness hikes.
This article was written by Sarah Clarke. She is a blogger for Thomson Al Fresco who enjoys sharing her ideas and experiences.
About The Author
Related posts