New York, Take a Bow.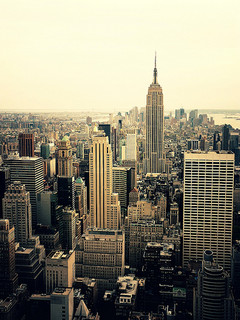 Coming into New York City, I was struck dumb by the enormity of everything. Giant buildings and expansive parks that stretched like a rolling blanket of green into a horizon of monolithic architecture, like teeth jutting into the sky.  The organisation of the grid-like streets and the efficient subway is a testament to the talent and might of many people, who made this place the beating heart of commerce and creativity. I read somewhere that if New York were a nation, it would have the 16th highest GDP in the world, and this frankly doesn't surprise me. Get your flights to New York to soar above this wonderful skyline before landing in the 'concrete jungle'.
I came to New York without a high-roller budget. Rather than rubbing shoulders with the famous and the feckless, I was instead cheek-by-jowl with other backpackers attempting to see the city for as little money as possible.  Fortunately there are many entertaining and exciting budget options.
Taking the Staten Island ferry is free! Whilst there isn't much to see on Staten Island itself, the voyage across the harbour and views of Manhattan and the Statue of Liberty are breathtaking.
 Check out Central Park, an enormous green oasis of solitude amongst the bustle of the city. Inside of Central Park, there is Strawberry Fields, a place dedicated to John Lennon, who famously lived in and loved the city before his untimely death.  In winter, check out the romantic Wollman Rink, a scene-setter from many romantic comedies such as 'Serendipity'.  If going in the summer, check out the Delacorte Theatre, where they annually host the free Shakespeare in the Park festival.
The cheapest way to get around is by the subway.  All of New York City's five boroughs are accessible for as little as $29 US per week.  This is a brilliant way to master the art of people-watching without staring and see the full spectrum of humanity in all of its glory.
For film buffs, Just about every corner of NYC's five boroughs has been used as a backdrop for movies throughout the decades.  Watch some movies directed by Woody Allen or Spike Lee for inspiration. Then, once suitably loved-up by possibilities, explore the delis, diners and side-walks that made it to the silver-screen.
I discovered that New York City is a very accessible and affordable place for travellers on a shoe-string. Perfect for those who like to pound the pavement, take in cultural sites and get a panoramic postcard view in person.  What are you waiting for?
Alison has been a travel fanatic since childhood and her neverending wanderlust has taken her all around the world. She recently began writing about her experiences to inspire others to feel as passionately about travel as she does. Her favourite destination is New York City, which she has visited six times.
About The Author
Related posts