SYDNEY – A Famous Harbour City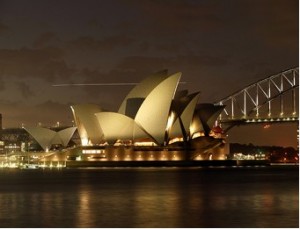 Welcome to Sydney, a spectacular city located in Australia. One can travel through Sydney by bus, train or vehicle comfortably. The city is famous for its scenic beaches and natural beauty. The people here have a seductive outdoor lifestyle and a pleasant nature. You can get refreshed and stress free visiting the green nature of Sydney planning a holiday of three weeks or more. There are many places like beaches, museums, shopping malls, boutiques, cafes, markets and pubs to have a 24-7 fun. Some of the famous places are Sydney Harbour Bridge, Sydney Opera House, Bondi beach and Kings Cross.  Sydney is also blessed with wildlife which also one of the tourist attraction.
              Sydney has a warm summer and mild winter climate. Rainfall is throughout the year. Summers are very hot from Dec-Feb with average temperature of 22 Celcius so wearing hats and sunscreen is necessary. Winter season is mild cold with 13 Celcius from June-Aug.
              To reach destination Sydney there are many easy ways. There are flights with prices affordable by tourists. Public transport systems like buses, trains and taxi by which the city can be travelled. Also passes are available at Sydney Pass which give unlimited travel option by public transport. Travelling by cruises is also good mostly in summer. A trip planner can also be hired for a comfortable trip.
             The accommodation facilities are also good and well serviced. There are many beach side hotels with luxurious facilities. Appartments are also available throughtout the city where tourists can stay. There are three star and five star hotel for business travelers. Hostels, bed and breakfast are also famous for backpackers.
             The historic cottages of the workman indicate that there was aboriginal habitat in Sydney region. Therefore the aboriginal art and culture is seen in the art galleries. The Colony of New South Wales was announced in the name of King of England by Arthur Philip on 26th January, 1788. Today this day is celebrated as Australia Day. The historic places The Rocks, Queen Victoria Building, St. Mary's Cathedral, University of Sydney Main Quadrangle are some of them which explore history.
             The other famous places to visit are Opera House, iconic image of Sydney, famous for the arts performed on Bennelong Point. It was also Olympic torch route in 2000, Olympics. The Sydney Olympic Park is also one of the tourist attraction. Sydney Harbour Bridge carries rails, vehicles and pedestrian traffic is also attractive. Bondi beach is one of the famous beach where one can swim, have a walk or surf .Kings Cross is famous for clubs and bars. There also zoo's like Taronga zoo where children can have fun. The other famous places include art galleries, shopping malls, botanical gardens or national parks.
             Sydney is a glorious and beautiful city which makes the holidays very much memorable. One cannot stop  visiting Sydney for its best of everything.
Keywords: -Sydney, Sydney Harbour, Bondi beach, Olympic.
Description: – Sydney a attractable tourist city, with beaches and beautiful nature.
Author Bio: – I am Stacey. I am a travel blog writer, it is my hobby to write about travel destinations, food and wine, travel photography, travel experiences, accommodations and travel ideas and in my spare time I love to collect new subjects for writing.
About The Author
Related posts