Time at Gatwick.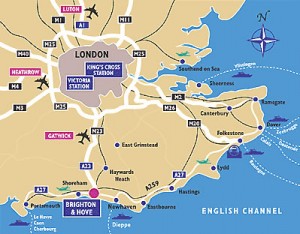 Many people know that London, Heathrow airport is one of the busiest airports in the world. Last year Heathrow was the third busiest airport with over 70 million passengers. Even though, Atlanta-U.S.A and Beijing-China was the top two with only a few more million people, but London was still classified as the "gateway" into Europe. The true "gateway" into Europe for many British people is Gatwick airport. It's a much small airport, but international flights that fly to various European destinations are usually directed to London's Gatwick Airport. There're many benefits to flying in or out of Gatwick.
Gatwick is fairly close to London, with only a 30 minutes express train from the airport to Victoria station. So it's easy to make a day trip to visit one of the most vibrant and exciting cities in the world. London offers visitors an endless list of interesting things to do and see and it's a perfect way to be introduced to London with just a quick day trip.
If you are short for time, but still want to visit a British town, be sure to stop by Horley. It's a local town not to far from Gatwick. It's a perfect town to get a feel for a true British town, with decent pub food, or Indian and Spanish restaurants to try and a very cute town center. Or if you need a place to stay there are many hotels located around Gatwick. These Gatwick hotels with parking are close to all travelers' needs.
If you ever wanted to visit a Castle and only had a short time to do so, be sure to visit Hever Castle. Situated around 30 minutes from Gatwick airport, Hever Castle is perhaps most famous place for being the place where Henry's 8th wife spent her childhood years. It's a very impressive castle and the gardens are beautiful to visit, especially during the spring months.
Gatwick may not sound so interesting compared to going to the world's third busiest airport, Heathrow but considering how many things you can see and do around Gatwick, it's not so bad. Plus there are many wonderful hotels to stay at around Gatwick.
About The Author
Related posts