Wuzhen—A Trip for Three Bosom Friends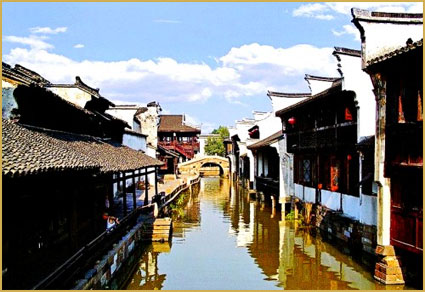 As a senior student in university, I, like many others, was exhausted by the graduate paper and summer internship. When the precious May Day holiday approached, my friends and I decided to make full use of the last holiday of our college life. Since the holiday only lasts for three days, we narrowed our choice to cities near Beijing. With excitement and expectation, we searched online for information of canal towns in south China because all of our hometowns are inland. Eventually, we settled on Wuzhen, a quaint and gorgeous town in Zhejiang.
The moment we set foot on the land, we smelt humidity, which was the peculiar trait of canal towns. Sweeping over, I found moulds crawling up on the white walls of all houses and buildings, between which rivers quietly flowed. With black tiles and timber framework, the small town contrasted with its grey flagging. The whole sight conjured up a Chinese ink and wash painting. Rickshaws found a promising market around scenic spots of Dong Zha and Xi Zha. Although the weather was not cooperating, we could still feel the beauty of the town under the overcast sky.
Before departure, we had booked a room near Xi Zha, one of the must-go places in Wuzhen. The proprietor of the small hotel was so considerate that he came to pick us up after a brief call. We were led into a perfectly straight and clean street, and welcomed into our room. Traveling, for girls, also means dressing up and taking beautiful pictures. My two best friends and I washed off the night-train fatigue and squeezed into pretty dresses.
Our first stop was Dong Zha. By a free bus, we arrived at Dong Zha in the afternoon. Obviously, it was a hot site for a China tour, even for local Chinese people. The beauty of Dong Zha was quite straight-forward. Snaking along the narrow lanes between wooden houses which were in Ming or Qing Dynasty style, we found ourselves surrounded by numerous unique old wooden shops, which looked ageless and adamant. The one which impressed me most was a fabric workshop producing block-printed blue-and-white banners, which were hung up high in the sky and fluttered in the wind like long flags. Among those who passed by, there were a group of Japanese who were either on Chinese language program or study abroad program, and also youngsters who were either on gap year travel or student exchange. The tranquil town was bustling with tourists from around the globe.
As dawn drew near, we hurried to Xi Zha, a twin spot like Dong Zha. Xi Zha is especially renowned for its night scene. When sun went down, numerous yellow lights started twinkling. With this luminescent glow as a backdrop, fancy coffee houses set their seats along the river and attracted customers with their delicious food. Travelers were relishing the rare and picturesque scene as their shadows dropped into the watery setting. In addition, exquisite shops were selling Chinese cheongsams, combs and other distinguished goods. Despite a brief episode during which we were tortured by our high heels, the travel was perfect.
Although the trip was brief, it meant a lot to us. Since one of my friends planned to study overseas in England while the other would pursue post-graduate study, the trip would be the last one for us. Our laughter in Wuzhen, together with the picturesque scenery there will accompany me for the rest of my life.
Tom Hopkins works for Minds Abroad your informed counselor for study abroad & travel programs in China. Learn Mandarin in China and enrich your cross-cultural experience. For more posts and information on places of cultural and historical interest that we take our students to, visit www.mindsabroad.com
About The Author
Related posts