What Type of Backpacker are You?
Whether you're a veteran backpacker or preparing for your first trek, the world awaits. Backpacking provides incredible experiences and opportunities for travelers of many varieties. Check out these types tour backpackers you might encounter on your next trip and ponder about which group you fit into.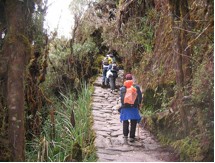 Spiritual Travelers
Looking to find themselves and serve others, these travelers often flock to Asia. After purchasing missionary insurance in case of any needed medical treatment, spiritual pilgrims set off in search of inner peace. Many spiritual backpackers visit religious sites or work for charitable causes during their travels.
Hippie Trippers
Developing countries attract hippie travelers who eat local and use local transportation. They often sport dreadlocks and avoid average tourist destinations.
Gap Year Adventurers
The year between high school and college finds gap year travelers exploring the world and seeing the sights without the responsibility of educational or work pursuits. Particularly in Asia and Australia, they often stick to the beaten path.
Party Packers
A drink in hand identifies this group. Primarily congregating in party destinations like Barcelona, Prague, Thailand and Amsterdam, these backpackers are loud and fun.
The Couple
Worldwide, couples seek to escape the routine and spend time reconnecting with each other. Older travelers tend to avoid the party scene while younger couples actively seek out the party crowds.
Flashpacker
Identify these travelers by their attachment to electronic devices. Found worldwide wherever they can find Internet access, flashpackers usually don't pinch pennies or sleep under the stars.
Nostalgic Travelers
Long-time travelers fall into this category. They've been everywhere and often return to their favorite locations. Filled with stories of the good old days, they may spend time reminiscing on how the best sites were better back in the day.
Tour Types
As you backpack, you will encounter travelers from one or more of the above categories. Perhaps they are journeying solo or in a guided tour. Find out more about the tour types that attract backpackers from around the world.
With the variety of tours available, you can find the trip that meets your needs. Whether you spend a few months exploring the beaten path or tour local sights for a day, find a backpacking experience that meets your style. You'll be glad you took time to discover the adventures that await.
Guided group Tours – Backpackers on a guided tour simply show up and follow the qualified guide on pre-arranged sightseeing tours. The cost typically includes housing, transportation and activities.
Independent Tours – Individual backpackers arrange the details on this personalized tour option. You decide everything from what to see to how long you stay.
Active or Adventure Tours – Exercise your need for adventure as you participate in mountain climbing, hiking or biking.
Hop On/Hop Off Tours – Travelers on a budget appreciate this tour type. Reserve a seat on the bus for the tour then hop off the bus to explore a location or relax. Jump on the next bus when you're ready to continue the tour.
Day Tours – Some travelers can't escape reality for weeks or months at a time. Often designed for sightseeing rather than adventure, day tours provide travelers with a taste of the backpacking experience.
Trekking – Multi-day hikes allow travelers to enjoy the great outdoors while exploring rugged locations.
Deciding where to begin your backpacking adventure isn't the first or hardest decision you'll ever have to make. Deciding what type of backpacker you are will help make the rest of the choices part of the fun!
About the author: Jessica loves traveling and being outdoors. In her free time, she enjoys camping and reading.
About The Author
Related posts