Five things you should not pack in your checked in luggage when flying
More and more people are now taking printers with them when flying away to foreign locations. The advent of the portable printer has made it an indispensable gadget for business and pleasure travellers. We've had a handful of people come into the shop here at www.cartridgeexpress.net and ask for advice for when travelling with cartridges, the problem is that printer cartridges should never be carried in checked in baggage.
The cartridge itself does not pose a security threat, one of the biggest reasons for restrictions on modern day flights. However, it will be affected by the changes in temperature and air pressure in the plane's hold. This could mean the ink will leak and cause damage to the rest of the items in your luggage. What is more, the cartridge will more than likely not work properly when your reach your destination.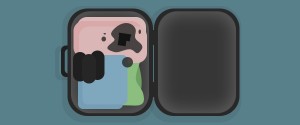 If you do want to do some printing while away there is a solution; you simply carry a cartridge in your hand luggage. However, there are security restrictions on the amount of liquid that can be taken on flights. The cartridge must not hold more than 100ml of ink, which means you should be able to carry a small printer cartridge in your hand luggage.
You will not be allowed to carry a toner cartridge in your hand luggage and as they will be likely to suffer damage in the plane's hold, it is best to leave it at home.
Other items that should not be left in your checked luggage are more a matter of common sense. Always carry valuables in your hand luggage; even if baggage carried in the hold is well secured, do not think for one moment that it cannot be broken into or lost. The same applies to personal or confidential documents. They will much safer, more secure and within easy reach if carried in your hand luggage.
Sometimes, travellers require essential medical equipment. Because they need to be close at hand they should not be packed in the checked in luggage. If you have a covering letter from your doctor you will be allowed to have them with you in the cabin.
Laptops are valuable, so it is not advisable to pack one in your check-in luggage. They can be carried in hand luggage, provided they have been screened by security.
Author Bio
Kyle works as a writer for the printer cartridge company Cartridge Express and has years of experience within the recycling and printer industry.
About The Author
Related posts