Explore Ecuador on Walking Holidays
Seeing a destination on foot is one of the best ways to really acquaint yourself with and explore a place. Ecuador is a prime destination for such a holiday. From rugged mountains to relaxed beaches it is an ideal country to explore whether an experienced trekker or first time rambler.
The Joy of a Walking Holiday
A holiday can take any number of different forms, from location to activities undertaken once there. One popular holiday activity is that of walking or trekking.Walking holidays in Europe have taken off in recent years, especially as an extension of family holidays in Europe. Since then, they have steadily expanded to other parts of the globe, allowing people to see new countries in a completely new way. Walkers can delve into exotic landscapes and witness first hand new cultures and new places and what better way to see the world than on foot?
Ecuadorean Adventure
From islands to jungle to snowy mountain tops, Ecuador's landscapes offer it all. Located in the northern reaches of South America, Ecuador is a tiny nation in comparison to its neighbours but with some of the most varied and beautiful terrain.
Ecuador's mountainous Andes terrain makes an excellent platform for any walking holiday, with varied scenery that can be taken at a leisurely pace to more challenging treks. Ecuador is home to some of the world's highest volcanoes, many of them active to this day. Cotopaxi, the second highest summit in the country, is especially renowned. From the summit of Cotopaxi trekkers can gaze for miles over the steaming volcano crater and to the neighbouring volcanoes in the chain, stretching beyond the Ecuadorean border into Colombia and all the way to the lowlands to the west.
Walks in these areas present more of a challenge, requiring experienced guides and acclimatisation to the higher altitudes they are set in. However, in the lower regions less experienced walkers can explore subtropical forest filled with towering hardwoods and exotic orchids and take the chance to glimpse rare indigenous animal species.
Ecuador's capital, Quito, is the highest capital city in the world. Located on the volcano highlands on the slopes of the Andes it has a cosmopolitan feel which sits in pleasant contrast to its isolated setting. The city is a UNESCO World Heritage Site due to its fantastically preserved historic centre with over 100 monumental buildings to be seen in the capital.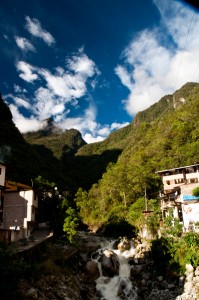 Other market towns, such as Otovalo, sit tucked amongst the hills make a nice break and are an ideal stop off point for a bit of wining and dining amidst the rural setting and a chance to see people who still practice traditional ways of living to this day.
The Galapagos
A trip to Ecuador is not complete without a trip to the famed Galapagos Islands and many holiday tours encompass this as a result. Often seen as one of the world's 'dream destinations', the Islands make up Ecuador's most renowned national park. Strictly protected, visitor numbers are extremely limited to ensure the wildlife remains as untouched as possible, ensuring that anyone lucky enough to visit is greeted with sights unequalled anywhere else in the world. With dramatic surroundings and wildlife found nowhere else on earth, any visit is an unforgettable one.
An unusual destination, take a step beyond more traditional tourist treks and discover the hidden beauties of Ecuador. Even those with little trekking experience will find something that breaks the mould in an Ecuador walking holiday. As such, it offers something for everyone in the way of outdoor activities and trails. From the volcanoes of the Andes to forest treks, it is the perfect setting for adventure.
AUTHOR BIO
Shannen Doherty writes regularly for a number of travel websites and blogs. She specialises in family holidays in Europe, but after recent Walking holidays in Europe she has extended her travel to encompass exploration of a number of South American trails.
About The Author
Related posts