A Family Weekend In And Around Fort Lauderdale
Fort lauderdale is the perfect destination for a family break. Spend a weekend, or longer, in one of the many Fort Lauderdale hotels and explore some of the myriad attractions on offer.
Because Fort Lauderdale has so many canals (it's often referred to as the Venice of America) what better was to start off than to have a waterway tour.  There are lots to different modes to choose from, ranging from kayak tours to moonlight cruises – just take your pick.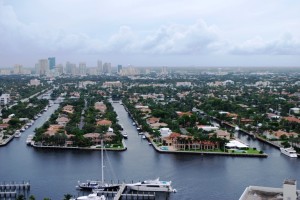 After a refuelling stop in one of the many waterfront cafes, a visit to the Museum of Discovery and Science is heaven for children with interactive exhibits, demonstrations, hands on activities, and even a film theatre. There is also a Florida Ecoscapes display showing the wildlife, flora and fauna of the area, including alligators, turtles and bats. Well worth a visit.
After dinner, a stroll along the boardwalks built over the sand dunes of one of Fort Lauderdale's beach parks is a gentle way to finish the day, and you might just spot some of the plants or even wildlife you learned about earlier.
After a good night's sleep, you're ready for day two! Sawgrass is first up on the itinerary, roughly half an hour away.  The recreation park is part of the Everglades Ecosystem, and has a small zoo where you can see countless alligators (even a white one!) among the wildlife. There is also a great a replica native village to check out, and an airboat ride offering thrills for the whole family.
Close by is Sawgrass Mills, an outlet shopping mall, or shopping heaven.  This is a top-end shopping outlet and offers many designer brands at knockdown prices.  The shopaholics among us declare that a few hours is never enough time for this particular experience, and some people have been known to spend days and days browsing and spending.
If you're looking for some respite from the consumer madness, there is a climbing wall for the adventurous, lots of different small fairground rides, a carousel, bungee trampolines, arcade machines, everything you could hope for.
With day soon escaping you, make your return to Fort Lauderdale for dinner, and possibly a short rest, and then out again. Your final evening should be something special, so check out Fort Lauderdale's amazing amusement park. The park is packed with activities, the most popular attraction being a wooden roller coaster which reaches speeds of over 50 mph!  Or have a go on the bumpers – boats instead of cars, or go karts, or climb another rock wall.  There are also gentler options such as mini golf, or arcade games.  The choice is huge, and there is something for everyone in the family, from the youngest to the oldest.
So that is just a very small example of the a few of the numerous things to do in Fort Lauderdale.  There really are so many attractions that no one could fail to have a fantastic time.  So what's keeping you?
By author and travel enthusiast, Linda M., writing on behalf of Marriot Hotels in this instance. If you're ever in the area, be sure to check out their offers for Fort Lauderdale hotels!
About The Author
Related posts