The Benefits of Ultralight Backpacking
Before the addition of children entered your life, you and your significant other loved making those spontaneous trips come Friday afternoon right after the five o'clock whistle blew.   Just the two of you, making use of every weekend second.   After the blessings of children you still made it out but it seemed that everything required extra effort; change of clothes, extra food, cleaning up, sleeping and of course—starting all over again the very next day.  Now that those childrearing days are in the past and the kids have grown and flown the coop, what is the best way to dust off that backpack and still enjoy the great outdoors?  Travel light.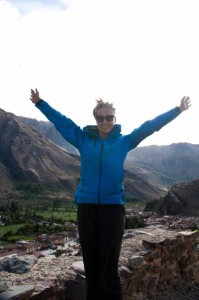 Less is more: you know the old adage here.   The less you bring along, the less weight added to those already aching shoulders.    Probably bringing the most basic of toiletries will help make the trip also bearable for your hiking partner as well, don't forget they'll be stuck with you for the next few days, brushing your teeth at least a couple times will help keep the peace.   Also a very rudimentary first aid kit would be among those necessities.   You don't want to find those tender toes blistered and weeping after a long hike.  Better have some kind of anti-bacterial ointment to apply and keep infection at bay.
Packing clothing light.  Bring enough clothes so you could still stop in the local corner store to pick up a bag of trail mix without the owner calling the local authorities.  Start with a lightweight jacket that you could strip off during the warmer hours of the day and tie around your waist.  By wearing silk, you'll lessen the weight and keep yourself much more comfortable.  Silk will help wick away moisture when you're warm and keep your body temperature warmer when it's cold (almost by nine degrees!)  Check your shoes.  Depending on the terrain and the time of year you could get away with a comfortable and worthy pair of running shoes.  Make sure the traction is still in good condition.  Dry them out well each night and they should do the job nicely.
Scale back on the hardware: Take a look at that pack, if this is the same one you used back in college you may want to take some take to research what has become available since those days.  Namely, material.   There is where you may want to jump of the web and start getting those research fingers clacking away.    You'll find plenty of Ultra light camping gear and equipment to help lessen the load.  Water bottles that also have filters will eliminate the need for giant jugs of water, dehydrated or freeze-dried food is compact, light and super easy to squeeze in your cramped pack.
You want the camping and hiking experience to be fun, after all, you don't want to return looking like you were lost in the woods for two weeks.   Camping is a great way to connect with nature and the great outdoors and when you're not spending so much time on loading and unloading, you'll have more time to get out and explore.  And isn't that really the point.
Bill Weston is an avid adventurist and outdoorsman who loves hunting, fishing, hiking, camping, writing, and good conversation with new and interesting people. Bill blogs on the topics of the RV lifestyle and outdoor recreation for Lakeshore RV, a premier RV dealer.
About The Author
Related posts