Pleasing the Little Ones: The Best Kid-Friendly Activities in Adelaide
Adelaide is notoriously well-known for its nightlife, club scene, bars and many other adult-oriented pastimes. This reputation might have caused you to check it off your potential holiday destinations' list, especially if you're planning to travel with children. Don't let the hype surrounding this bustling city keep you from exploring its many kid-friendly activities, and also don't assume that as an adult you'll be twiddling your thumbs waiting for the sugar high to wear off. In between booking your Adelaide hotel and investigating your other travel options, be sure to explore any of these kid-oriented destinations throughout Adelaide and don't be surprised when you join in on the fun yourself.
Adelaide Zoo
You may have a well-heeled "been there, done that" attitude when it comes to visiting any metropolitan area's zoo, but don't let that stop you from taking a chance on the wildlife in Adelaide. Best left for the older children in your party, the sheer size of the Adelaide Zoo can easily run smaller children ragged, but if you're feeling saucy, go ahead and bring along the entire brood. A strictly non-profit establishment, the Adelaide Zoo is the second oldest in Australia and features over 300 exotic and native species of fauna; including over 1,800 animals. If your time is limited, make it a point to visit Wang Wang and Funi, the only Giant Pandas residing in the Southern Hemisphere.
Wacky Warehouse
If your interest lies purely in zapping the kids of their abundant energy, look no further than the Wacky Warehouse. Located on Gorge Road, The Wacky Warehouse is a safe, modern environment ideal for children of all ages. The indoor play park is divided by age, a major plus for parents with children five and under in tow. Watch your older children play on the "Ocean" frame while your little ones explore the softplay animal zone. For the adults, the Wacky Warehouse offers a variety of treats at the café and a strong, caffeine-infused cup of hot coffee.
Pichi Richi Railway
Located a few miles outside of Adelaide in the Flinders Range is a unique opportunity for children to live out a long-held aspiration, or at least, learn more about the country's rich railway history. The Pichi Richi Railway houses an operating museum and offers journeys along the oldest section of the Ghan railway. The Pichi Richi Railway Preservation Society also offers a more behind-the-scenes look at how the station operates. These tours are available by appointment only, but it's well worth the phone call to see how the locomotives are preserved and restored. The tour also allows visitors to see many pieces in the museum's collection that aren't available to the general public.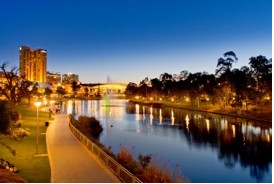 Adelaide Aquatic Centre
January and February temperatures in Adelaide are notorious for climbing well above the 40 degree Celsius mark, so if your family is begging for an entertaining way to beat the heat, look no further than the Adelaide Aquatic Centre. Located in the city's northern section, the Aquatic Centre features pools based on different activities and interests. For instance, the Main Pool is a heated, 50-metre lap pool intended for adults and casual swimmers. When you're ready to (literally) take the plunge, head to the Diving Pool. The Leisure Pools' graded depths are the best bet for the youngest members of your traveling party.
Beerenberg Strawberry Farm
In this age of modern conveniences, smartphones and Wi-Fi ready restaurants, it can be difficult for parents to find wholesome, outdoor activities the whole family can enjoy. Luckily for you, the Berrenberg Strawberry Farm is still a fun, safe place for your entire brood to partake in the beautiful spring weather while you sneak a few strawberries from the patch. The property features a mid-19th century barn, a massive pick-your-own berry patch and a farm shop complete with jars of homemade strawberry preserves and quaint souvenirs. The older kids might complain, but this is an issue quickly remedied by shutting off their smartphones and shoving a few ripe strawberries in their mouths.
Now that you've explored all of Adelaide's best kid-friendly destinations, don't hesitate to hire a babysitter and explore downtown after dark. Adelaide is still that fun place you remember from your single days, just remember that you can't stay out too late, because the kids are sure to wake you up bright and early the next morning.
Joe White is a guest blogger and makes frequent trips to Adelaide. Joe is currently based in Sydney, but plans to make the move to Adelaide in the near future, with his family in tow. 
About The Author
Related posts