Five Destinations for Your Next Insane Adventure
The typical resort vacation spent lying on a beach drinking margaritas is a bore for the adventurous traveler. Adrenalin-seeking vacationers prefer the thrills that can only come from active outdoor vacations.
Mount Olympus in Greece is a great vacation destination for rock-climbers. Rock-climbing on Mount Olympus is both challenging and beautiful. Proper equipment is essential for rock-climbing. Once properly equipped, a climber can scale Mount Olympus to the peak, Mytikas, to view the gorgeous Aegean Sea.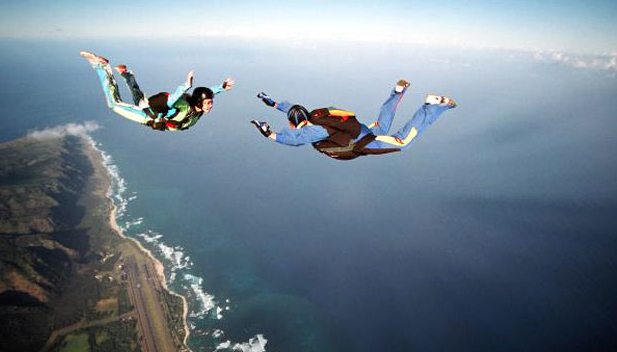 A second adventure travel destination is Oahu, Hawaii. Active visitors to Oahu can skydive for an exciting rush. Skydiving in Oahu also provides gorgeous views of the turquoise Pacific and the iconic Diamond Head mountain peak. Oahu offers beachfront hotels and resorts for relaxation after an exciting day of skydiving. Oahu also provides numerous opportunities for other outdoor activities, including scuba diving and hiking.
Costa Rica, another destination for thrill-seeing travelers, consists of a rain forest sandwiched between the Atlantic and Pacific Oceans. In this gorgeous natural setting, Costa Rica offers many outdoor activities, including zip-lining, white water rafting, surfing and hiking. The diverse activities in Costa Rica make it the perfect all-around adventure travel destination. Traditional Costa Rican foods such as rice and tortillas will provide the energy necessary for the active tourist.
The daring traveler will find excitement in the snow in Switzerland. Skiing, snowboarding, snowshoeing and ice climbing are a few of the many winter adventures available. Switzerland also has hotels and resorts to satisfy all winter vacationers, from exclusive ski lodges to inexpensive youth hostels.
A wildlife safari in Kenya is another destination for the daring vacationer. The famous big-game animal reserve, Masai Mara, is located in Kenya. Kenya also contains Mount Kilimanjaro, the highest mountain in Africa. Safaris in Kenya can be luxurious as well as active. Many tour companies offer adventure safaris that include delicious food and well-appointed accommodations. After viewing wildlife and engaging in active pursuits, the white-sand beaches on the Indian Ocean in Kenya provide rest and relaxation.
Whether it involves hiking, biking, rock climbing, ice climbing, surfing or getting close to the wild animals of Africa, an adventure vacation can provide electrifying thrills for active travelers.
Author Bio
Lyndsi Decker is a world traveler and freelance writer. Currently she is promoting automatic knife safety. She enjoys rock climbing and snowboarding, and her next adventure will be skydiving.
About The Author
Related posts