Transcendent Quebec City
Though Montreal receives the lion's share of attention for being the foremost French-speaking city in Canada, Quebec City has emerged on the radar as an utterly beautiful must-see city in its own right. While it's not a major metropolis with an exploding population and all the hustle and bustle that usually entails, Quebec City's appeal is in its quieter, staid personality, with a rich history that has steeped the atmosphere in Old World European charm. This capital city of Quebec province was, after all, France's first major outpost in the Americas, its stake in what was known in the 1600s at New France, though it lost the territory and claim to the English in the mid-1700s.
Historic buildings, lazy café afternoons and whale-watching alone make this city a stand-out, but it's further enhanced geographically with a plum perch 200 feet above the St. Lawrence River, nestled among picturesque mountains. One thing is for certain: Quebec City will fully surpass your expectations.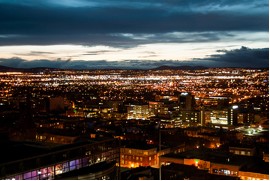 Lodging
The Auberge Saint-Antoine is one of the most popular hotels in the city and for good reason. Aside from its centrally located position in Quebec City's Old Port, history buffs will be delighted to note that during construction of the Auberge Saint-Antoine, artifacts from the 1600s were unearthed, documented and restored, and they are now on display in the hotel. Rooms are crisp and well-appointed, brimful of technological amenities like Bose stereo systems and Wi-Fi. Panache restaurant offers a sumptuous on-site dining option, with fresh local and organic produce turning up on the menu whenever seasonable.
There are lots of reasons to come to the capital of Quebec and hotels like the incomparable Fairmont le Chateau Frontenac, known simply as "The Chateau," is one. A star on the Quebec City skyline, this grand building stuns with its whimsical castle appearance. Set about to enjoying your simple but luxurious room (river views will be more expensive), or consider truly splurging for a stay on the Fairmont Gold floor, which features a separate concierge and lounge. The Club Frontenac will ensure you can get in a few laps around the pool or a couple miles on the treadmill, which you can then undo with a lovely, world-class meal at the on-site Le Champlain restaurant. There is also a more casual restaurant, as well as a bar and lounge (and even a Starbucks on the premises).
Place Royale
Place Royale is a historic plaza wedged between the Cap Diamant and the St. Lawrence River, the location where Samuel de Champlain, founder of the city in 1608, began to build up his new conquest. The strategic location has been in use for thousands of years, first as a trading and fishing hub and then a city center upon French arrival (public executions were not uncommon). Now it is one of the most photographed parts of Old Quebec, a UNESCO World Heritage Site, having been restored after some decline.
Café Life
When in Quebec City, do as the Europeans do, and spend a leisurely afternoon at one of the many cafes which dot the city. One excellent option is the Café Krieghoff, a charming little place in the Montcalm district with a reputation for fine coffee of the European tradition and outdoor seating for a beautiful day. If the caffeine strikes you, walk off those jitters with a stroll around the neighborhood for unique shopping.
Our Lady of Quebec Basilica Cathedral
A cathedral has sat on this spot since the 17th century founding of New France, and while the church has been rebuilt several times over the centuries, the significance of this spiritual center has not diminished. Look up in awe at the basilica's ornate interior, where painted clouds decorated in gold leaf hover above, and see the chancel lamp given by Louis XIV (The Sun King and builder of Versailles). Guided tours of the cathedral and crypt are available and well worth the visit.
Whale Watching
Make your way to the Route des Balaines – Whale Route – for the best glimpse of these enormous mammals, 13 species of which feed in the St. Lawrence River. If you're lucky, you'll see the largest animal on the planet, the blue whale, though the humpback and minke wales are also spectacularly entertaining. You should have no problem booking passage for a tour, but know that you can also see whale activity from land in some areas.
Image provided by Cliff Ayotte from Flickr's Creative Commons
Veronique Durand is a contributing writer and Quebec City native who currently lives and works in Toronto. She is an avid whale watcher, having gone on excursions in her home town, in Hawaii and in Australia.
About The Author
Related posts