Adventure Sports Trip
Adventure sports are meant to be full of excitement in exotic locations or uneven terrains. The list of sports that can be played is very long. You can even make up unique sports simply by using your creativity. Adventure sports are a nice way to connect with your family and friends. If you are a thrill-seeker, then there's nothing better than going out in the wild and having fun in nature.
There are various sports that you can enjoy in the outdoors. Some of the most exciting ones that will give you an adrenaline rush are listed here.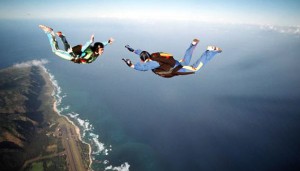 Rafting
If water is your forte, then rafting is the thing for you. This exciting sport combines the thrill of water sports and adventure at the same time. This is a challenging sport in which you use an inflatable raft in order to navigate through rivers. You can choose the level of difficulty by going for the roughness of the river. It can be dangerous, and is categorized as an extreme sport.
Paragliding
Paragliding is one of the most thrilling adventure sports out there. Imagine flying over the land in the full flow of air. Paragliding is this, and then some more. There are different ways in which you can go about it, such as hang gliding, kite skiing and speed riding etc. If you have a knack for it, or get proper training, you can easily go up to a few thousand meters high.
Snowmobile
Snowmobiles are used to navigate places covered with ice or snow. The working mechanism is essentially the same as a motorbike on concrete roads. There are many sporting events revolving around these vehicles. You can go for races, mountain biking, slope riding and other similar sport types.
Rock climbing
Rock climbing involves climbing on artificial or natural rock formations. The objective is to reach the summit of the formation. In some events you may be required to do this in some stipulated time. On an individual or group basis, you can just pack your gears and climb up any outcropping that looks really difficult to capture.
Other Adventure Sports
Outdoor recreations include many other sports such as trekking, mountain biking, hiking etc. Trekking through a dense forest can be termed as an outdoor sport. The thrill of going through a jungle full of wild things cannot be replicated elsewhere. All you need is trekking gear, knowledge about the place, and precautionary and safety equipment, and you're good to go. Similarly, you can go for mountain biking through a scenic mountain range, or even a hill.
Outdoor sports should be tried every once in a while. These sports allow us to be one with the nature, while working to make us healthier and stronger. These are a fun way to connect with friends and family, and meet new people in the process.
Grace is an author associated with Cheap BB Guns, an online firm specializing in all types of mock guns, such as BB guns, Airsoft guns and Electronic Airsoft guns. The author has written blogs for a number of sites and does this frequently.
About The Author
Related posts