Dream wedding- Make it special in European destination…
Two souls but single thought, two hearts but beat as one…yes marriage is such a wonderful relationship, which is a lovely, friendly and charming. Destination wedding is one of the major growing trends today all around the world. Secluded beaches, intimate seashores, luxurious resorts and hotels, indoor and outdoor, the venues may be anything. Today couples are interested in making their wedding special and start the new phase of life in a very innovative way, so that the sweet memories would be nostalgia after years of life.
If you are in a plan to find a unique wedding destination in Europe, then read down as below are some of the dream wedding destinations in Europe.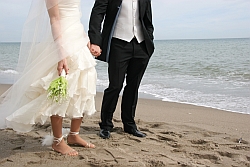 Elegance of Belfast…
The capital of Northern Ireland, Belfast is a charming wedding destination, which has spectacular stretch of land easily navigable. It is one of the top destinations preferred by people and the nature is elegant. River Lagan carves itself throughout the city and many hills surround the place and a wedding would seem like a wedding in paradise here. Summer wedding would be more blissful and more romantic as in the evenings sun sets late and would be good for photo shoots. For the couple at this city that inspired the Gulliver's Travels and the Chronicles of Narnia, a trip covering the various events organized at the world class Odyssey Arena and Belfast Waterfront is a must do thing along with exploring the cultural escapes, coolest nightclubs and the superb shopping places.
The romantic city…
Paris is well known as romantic city and would be an ideal wedding destination at Europe.  It's a place where guests can indulge in numerous activities at clubs, visit galleries and museums and not to forget about the Eiffel tower!!! Its stunning architecture, immaculate gardens, rich Parisian culture that makes Paris special and there are many nice hotels and resorts, which would make a romantic wedding. Some of the best wedding destinations in Paris include Musee Rodin, Salon Marie-Antoinette located at Hotel Plaza Athénée.
Wed on Mediterranean island, Malta…
Malta Island along with Gozo and Comino islands offers good beaches, cathedrals, world class restaurants and resorts for wedding. Gozo is a nice place for couples if they desire for seclusion after marriage. They can also enjoy day in spa, restaurants, beaches and have a pleasant after wedding time. The guest at the destination can also opt for biking tours around the island. Malta is a wonderful place to enjoy a wedding with family and friends and beautiful Mediterranean wedding would create long lasting memories.
Italy…
It brims with ancient history, mountains, spectacular coastlines and delicious cuisine, a wedding in Italy is real tonic and surely going to be a memorable one for the couple. Verona is one of the favorite places in Italy. Here most of the Catholic weddings take place in Chapel Duomo of Verona. It is a beautiful place with its ancient art pieces. Wedding ceremonies are also possible in historic places like House of Juliet and in surrounding villas and parks.
England…
The picturesque and classic English countryside, with ancient traditions and mansions is what attracts a number of couples to exchange their wedding vows in England. The impeccable manners of this royal land are a dream wedding destination for many brides. You can choose the venue for your wedding to be the stately halls of an ancient castle, in the same stone walls that have witnessed the great King Arthur, Shakespeare and Byron.
Greece….
Another destination that you can choose to get married in is Greece. It is bordered by Turkey on the east and to the north with Bulgaria and Albania. On the south Greece is touched by the Lybian Sea while on the West, the Ionian sea is what makes this place all the more breathtaking. The mountains terrain of this country and the unique yet varying culture is what makes it a special place to host of wedding reception.
Spanish wedding venues…
Granada is one of the beautiful cities in Spain that offers from places like historical monuments to natural parks in amidst of rugged mountains. Located on Spain's southern coast Marbella attracts many people for to marry with sandy beaches and warm blue waters. There are many resorts and hotels that will help in arranging a nice wedding for the couple to enjoy and mesmerize.
About Author Bio : Christina Maria is a writer of articles on several different topics from travel to camping. She also provides the latest travel deals. Learn about fresh travel tips & travel destination, tour etc. Click here to know about company
About The Author
Related posts