Make Your Money Count When Studying Abroad
The joys of wanderlust. French poetry. The dream of meeting the love of your life as you walk the tulip-lined canals of Amsterdam. Wait a second. This is only the third month studying abroad and already your allowance has burned a hole in your shabby corduroys with an intensity as powerful as the 1666 Great Fire of London. You don't have the money to take that weekend trip to the Amalfi Coast, nor can you even afford a copy of Flowers of Evil at that secondhand bookstore on the Left Bank. As for that love of yours, she took one look at those corduroys and the stale baguette tucked under your arm and ducked down the nearest alleyway. Dreams deferred, indeed.
Planning where you want to study abroad and packing a rucksack (Hint: Dr. Bronner's magic soap goes a long way) is only half the battle. Once you get there, a firm budget is going to need to be put in place. While there's no way you're going to be living like the Prince of Monaco, there's no reason to live like a pauper, either.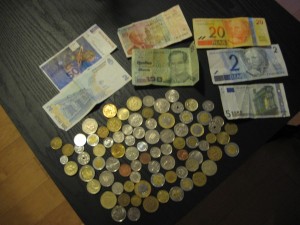 Budget-Friendly Destinations
While places like Prague and Budapest are still modestly priced and incredibly popular among foreign students, the American dollar will not get as far in European powerhouses like London, Paris and Munich. Before you set your sights on one of those classic destinations, you need to familiarize yourself with exchange rates. If money's going to be too tight, consider studying someplace less expensive. Places like Central and South America top the list of inexpensive locales, and you can rent an apartment in Taiwan for as little as $200 a month. But before you jet set anywhere, consider purchasing budget travel insurance for students to make sure you're covered in the event of an accident or injury overseas.
Make Lists and Plan Accordingly
Sure, you're a student. Eating a pick-up meal of bread and day-old charcuteria is part of the lifestyle. You'd rather hoard that last euro for a stein of lager at the beer hall than eat a balanced meal. At the same time, Mom and Dad aren't going to be around to help with the budget or bail you out if you can't make ends meet. Making grocery lists and balancing a checkbook is essential, but more importantly—you're going to need to follow the budget. If you can't afford Christmas break in Ibiza, don't even think about getting on the plane. Play some David Guetta and make homemade sangria in your apartment.
Money-Saving Tactics
Once you make some local friends, saving money will be easier. They'll be able to fill you in on cheap restaurants, free museum days and other discounts that exist throughout the city. Of course, you can never be sure when you're going to strike up friendships, so until then, forego the midnight taxi rides, skip the high-end restaurants, use ATM machines instead of money exchange kiosks and consider looking around campus for a part-time job.
When you're spring breaking on the Amalfi Coast, reading some French poetry as you sip a Bellini, you'll be happy you cut corners and lived on the cheap during the semester. Now if only the love of your life would stroll down the beach.
About The Author
Related posts