Camping Apps to Download Before You Set Out
You love technology especially the ease of finding everything you want or need right at your fingertips, but what if you're weekend plans include a trip to the great outdoors? Not to worry, you can still bring technology with you.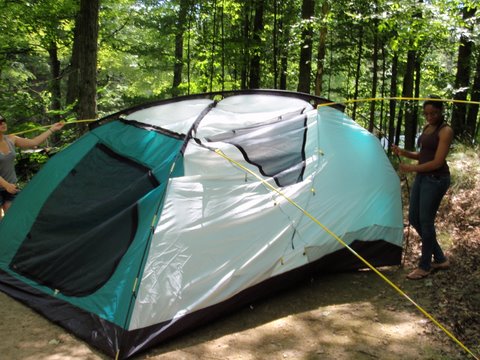 Camping check list: Every camping trip should start first with that all-important list of what to bring.  Right away you can search and find a few apps to get you organized and on your way to packing up and being on your way to the mountains.   Try a few free apps here, there are some that charge you .99 cents to $1.99 for this list capabilities but you can just as easily download a free app that provides the exact service the pricier options offer.
Compass: Every camper should have one of these; they're free and probably not a bad idea to have on your phone or Ipad anyway.   If you are into Mountaineering or geocaching this will be an absolute necessity to bring along.  There are a few GPS systems that you can research a little, some might be worth the .99 cents to download.  Who knows, you might even need it to find a short cut to lessen the long drive home.
Star gazing: When under the cover of all those amazing sparks of light, wouldn't it be great to show off all your knowledge of the stars and heavenly bodies, well now you can—with a little help from your phone.  Check out the different apps, many of the free versions received 4-5 star reviews.
Camping recipes: Be careful here, some 'free' apps advertise thousands of camping recipes for free however, once you download the app you'll realize that you actually have to 'buy' most of the recipes, don't get ripped off.  Double check the entire app before making your selection.   Not a bad idea to have, but probably not a necessity, either.
Camping reservations: If your plans include a camping trip to Indiana you might be in luck, there's a free app to download.  What's more you can also view hunting and fishing regulations, nature brochures as well as upcoming events.  Not traveling to the Hoosier State? Not to fret, you can still find suitable apps for those reservations; you just might need to shell out a couple bucks to do it with.  Though it costs $4.99 to download, The Great Outdoors can help you make reservations anywhere in the United States, choose your camping sites (RV, cabin, lodge, day use, etc.).  Want to bring the family dog along? Make sure your campsite allows pets with this handy app.
Do your homework, find out what you need to bring (don't forget about that handy checklist app) then start getting packed.  After all, the quicker you can get to your site, the better.  And now technology can make your weekend getaways even more enjoyable.
Now if they only had an app for ridding your campsite of mosquitos!
Bill Weston is an avid adventurist and outdoorsman who loves hunting, fishing, hiking, camping, writing, and good conversation with new and interesting people. Bill blogs on the topics of the RV lifestyle and outdoor recreation for Lakeshore RV, a premier RV dealer.
About The Author
Related posts