Vietnam Vacation
Taking a gap year often means that you can spend more time in a destination that you feel warrants further exploration. Vietnam is culturally diverse and offers those with imagination a number of opportunities in which to expand their horizons.
Even if you had only intended to spend just a few weeks on your Vietnam vacation, before heading home to the familiarity of your local McDonalds and the joys of finding gainful employment, the sheer breadth and beauty of the country may well entice you to stay for longer.
In a bid to discover more about the local culture, many gap year backpackers opt to carry out some charitable volunteering as a method of learning more about their temporary home. Volunteering often means that you'll have to pay in order to offer your services to any given charity; your fees will go towards the work of the charity, but it's becoming increasingly more difficult to find a volunteering opportunity where you won't have to pay.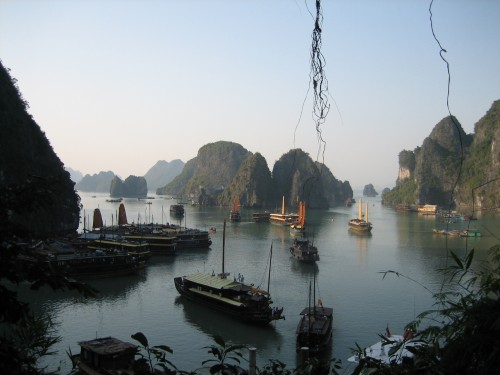 An Exception
The CDS Rural Education Development Organization offers support and help to young Vietnamese living in rural areas who for one reason or another are seen as disadvantaged. The scheme is free for volunteers and is mainly concerned with English language skills and introducing multiculturalism to these young Vietnamese. One of the positive advantages of taking part in this sort of scheme is that you'll be able to learn a lot more about Vietnamese culture and gain a greater appreciation for the country and its people as well as sharing your skills with an appreciative audience. This particular charity offers accommodation for its volunteers.
Hanoi
If after volunteering you want to spend some time unwinding in Vietnam then head to Hanoi. This northern city has still retained traces of its French colonial heritage combined with its unique Vietnamese atmosphere. The Old Quarter with its numerous traders is fascinating, and if you're travelling on a budget then look out for one of the many cheap guesthouses that proliferate the city. Many travellers use Hanoi as a starting point for visiting the rest of the North of the country. The city has good connecting rail services and there are some internal flights to other parts of the country as well as a widespread bus network.
Mai Chau is a three hour drive to the West of Hanoi but its picture postcard beauty makes it well worth the effort. Over the last few years many of the more isolated indigenous peoples (there are about 58 tribes throughout Vietnam) have taken part in a variety of schemes that encourage them to open their homes to overseas travellers, and most of the organized tours will offer this facility; you will be offered some regional cuisine and invited to hear local music
National Parks
If you enjoy cycling or trekking there are numerous opportunities to hire a bike and head off to one of Vietnam's thirty National Parks. Cuc Phuong, just south west of Hanoi, is the oldest and has set up an ambitious programme of conservation. The park is home to many unique species of plants and animals and its Endangered Primate Rescue Centre has been credited with saving Delacour's Langur, an endearing and vulnerable primate.
By, Celina Bledowska, writer and journalist
About The Author
Related posts