A taste of South Africa
Backpacking is a great way to explore other countries and continents on a budget and really get to know the local culture. To fully immerse yourself, you need to take a bite out of what the country has to offer and when it comes to South Africa there are plenty of tasty things to sample.
If you've never been to South Africa your knowledge of the local cuisine might not extend beyond biltong – that salty meat snack you can eat on the go. However, there's a host of culinary delights to sample – many of which are influenced by neighbouring continents – and the good news is there is an abundance of inexpensive snack foods that will help your rands go far whatever the current exchange rates are (note: see Travelex S.A. to find out exactly what they are; knowing how far your money is going is always an essential part of any backpackers discipline).
On-the-go snacks include bunny chow – a sort of deconstructed sandwich that sees a hollowed out bread loaf packed with tasty treats and vetkoek, a deep fried dough stuffed with sweet or savoury fillings in much the same way. And for those with a seriously sweet tooth, there is koeksister – a sort of doughnut or dumpling that is deep fried, dipped in syrup and served cold. They may be high in calories, but with all that walking you can justify the indulgence. Wash them down with other South African specialities – like beer or wine.
South African cuisine takes in influences from Portugese, Dutch, French, Indian and even Moroccan cuisines, which means there are plenty of spices, herbs, meats and textures incorporated into speciality dishes. For a wholesome and tasty meal try out babotie – a minced lamb dish that's a little like moussaka without the aubergine and topped with a savoury custard. If carbs are usually your thing you'll want to familiarise yourself with pap – a polenta like accompaniment the South Africans serve with most meals. Then, for extra interest, investigate Chakalaka – a vegetable relish that's best consumed with other foods and certainly adds a bit of spice.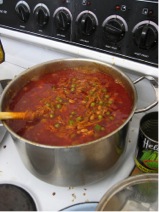 The South African weather certainly lends itself well to a barbecue or two and if you're lucky enough to attend a braai (South African BBQ), look out for meaty treats like booerwors – which is a sausage made with minced beef and a blend of spices and steaks of springbok and kudo.
Finally, if you fancy changing out of your shorts and flip flops and heading to a more upmarket eatery, you'll find yourself spoilt for choice.  The Tasting Room at Le Quartier Francais and the Test Kitchen in Cape Town were both named in the World's Top 100 Restaurants for 2012.
About The Author
Related posts