Free Things To Do in Bali
Traveling is expensive, so it's important to save money wherever you can. But who feels like budgeting when they're on a long-awaited vacation, especially when their destination of choice is the beautiful, breathtaking Bali?
An easy way to cut costs is to find free entertainment. There's plenty to see and do in this country that won't cost you a dime, so put away your purse and enjoy tourism without the price tag! Here are a few free activities in Bali.
The Beaches
You can't leave Bali without hitting the beaches, of course, and they won't cost you anything except a little sunburn. Swim, surf and scuba in the water; go treasure-hunting or paragliding over the sand; join volleyball games and fireside parties for a good time with friends. The shorelines are clean and the waters are cool and blue, so you won't want to miss Bali's beaches.
The Markets
They're best enjoyed with a few rupiahs in your pocket, but the street markets of Bali are still an adventure even if you're just window shopping. You can find everything from food to clothes to souvenirs among their busy stalls and crowds, and many vendors will be happy to let you try/feel/sample their wares in hopes of an eventual sell. And if you do see something you can't live without? Bartering is an accepted and even expected practice.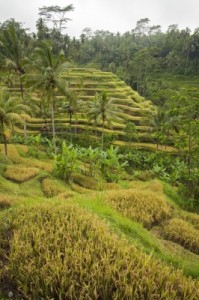 The Gardens
The Bedugul Botanical Garden is a treasure of the land, offering more than 2000 floral species native to not just Bali, but all of Indonesia. Tirta Gangga takes beauty even further with their famous "water gardens," a set-up that must be seen to be believed. If you're at all interested in flowers, botany or just exploring beautiful things, make sure to check out some of Bali's gardens.
The Dancers
With roots in Hinduism, Balinese dance is a long-standing tradition with much religious and cultural significance for its performers. It's also a lot of fun to watch! From elaborate theater productions to expressive sidewalk shows, it's an authentic taste of Bali culture and one you won't want to miss. Courageous travelers can even try their luck at a lesson or two!
The Heights
Ever climbed a mountain? Hiked to the top of a volcano? The various peaks and cliffs of Bali's mountains are a great way to see the country from a bird's eye view. From the dizzying steps of Mt. Agung to the dense craters of Batur, there's a trek for every skill and adventure level. Just don't forget your camera, because you'll definitely want to capture all the animals, waterfalls and sunsets you'll see along the way.
The Ruins
It may be a tropical paradise, but deep in the heart of Bali you can also find crumbling landmarks and ancient ruins that speak of the country's long and complicated history. For example, the Tirta Empul Temple is a national monument built around a sparkling spring, and the Gunung Kawi are ancient tombs carved into cliffs dating all the way back to the 11th century. These kinds of historic sites are a great way to kill an afternoon without going broke, and you'll learn something new about Indonesian culture, too.
The Festivals
Before you book your flight to Bali, it's worth checking the calendar and seeing if your travel dates intersect with any local holidays. Why? Because the Balinese people know how to celebrate! From the Galungan Festival to the Bali Spirit Festival, taking your Bali vacation in the right month can mean arriving just in time for fireworks and parades. It's a cross-cultural experience you'll never forget, and best of all, the festivities are entirely free!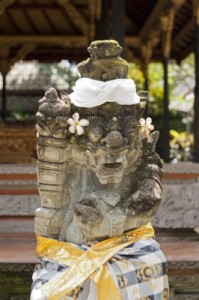 About The Author
Related posts