Hiking through Hawaii
Last year I had the unique experience of hiking through Hawaii. The November Hawaiian weather was wonderful, the scenery was spectacular and the experiences I had are yet to be topped. I was given the opportunity to visit a few of the best hiking locations found among the Hawaiian islands and when I reached Maui and I knew I needed to explore the island's eastern coast attraction, the Hana Highway or as its commonly called, The Road to Hana. It was here on this 68 mile road that I was able to experience smooth black sand beaches, hike among some of the lushest foliage I've ever seen, eat giant roadside coconuts and stand beneath Maui's tallest waterfall.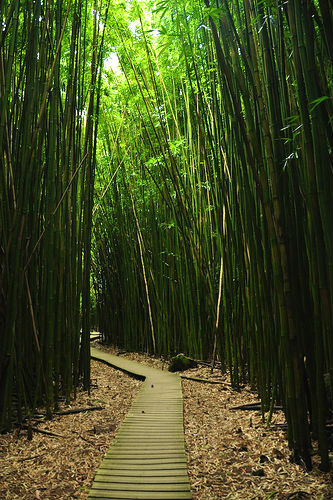 Pipiwai Hiking Trail
By far the most memorable experience from my Hana Hiking was the Pipiwai hiking trail. Very few tourists were along this trail and with each turn I was greeted by new, breathtaking and exciting scenery.
This four mile (round trip) trail began by leading me up the mountain, through trees and along a cliff until I came across a pristine waterfall. Taking a side path, I was able to stand atop this incredible tall waterfall's flat rock top and look down into the depths of the plunging water below.
As I continued along the well tread Pipiwai path, I took in several other waterfalls and greenery. But the landscape of the trail quickly changed as I came to the next section of this trail, an area that seemed out of place, peaceful and almost eerie. Although I was in broad daylight, as I stepped into the trail's dense bamboo forest, it almost felt like night fall had come. Walking along a boarded pathway for what seemed like miles, I stepped among these trees which tightly surrounded me and stood like giants watching me pass.
Once I stepped out of this unique bamboo forest, I faced a more mountainous path that was cut by a stream, large boulders and loose rocks. Treading carefully, I continued along the last quarter mile of the trail until I reached the end. It was here at the end of this incredible journey and trail that I came to a 400 foot Hawaiian waterfall called Waimoku Falls. I can honestly say that, I've never been so rewarded at the end of such a beautiful trail. Rather than just stand and adore the beauty of these falls, (which I did for about ten minutes,) I decided to walk down to the fall and stand beneath the pounding water. As the cooling mist of the fall reached my body, I knew I would never have a hike as wonderful as this again. The water rained down on me and there was no one coming along the trail… making the falls, the moment and the memory, completely mine.
Hiking through Hawaii
In my travels I have swam with dolphins (Honduras,) ridden elephants (Chiang Rai Thailand,) zip-lined through Mexican forests and hiked through the Rocky Mountains but I am yet to find an experience that rivals my hiking in Hawaii, especially the Pipiwai Trail on the Road to Hana.
About the author: Boyde McMakin is a travel extremist with PPL Motorhomes who loves being outdoors with his family and friends. He thoroughly enjoys traveling to places that inspire him and uplift his soul. Click here to view his blog.
About The Author
Related posts