How to turn a Hebridean hopping holiday into an action-packed adventure
If you like your holidays active and adventure filled then the Outer Hebrides might not have made it on to your to-do list just yet – and I'd urge you to put this under review. While they certainly aren't the perfect destination for white water rafting or bungee jumping, this group of Islands situated just above Scotland at the very tip of the United Kingdom offer a backpacking experience that can't be emulated elsewhere. After all, how many backpacking destinations are there where you can walk across the land in less than a day or hop between several islands in a matter of hours, indulging in a range of activities as you go?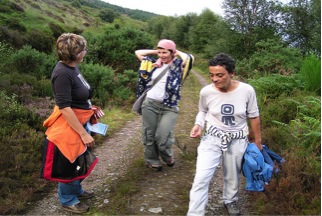 Home to white sand beaches, impressive seasonal surf and a real haven for wildlife, the Outer Hebrides – also known as the Western Isles – is a cluster of over 60 islands. Of these, around 15 are inhabited. The larger/major islands consist of Lewis and Harris, Benebecula, North Uist and Barra.
Arms of the sea reach into these rocky islands, which have a cool temperate climate that remains consistently mild throughout the year thanks to the Gulf Stream. This means it's not unbearably cold, but with average summer temperatures only notching up to 14C and a great deal of year-round wind, you need to carefully consider what clothes go in your backpack.
If your standard backpack contains little more than a bikini and some flip flops, you may want to update its contents before you hop on the ferry. British brands are well versed when it comes to designing for the climate, so if you need to pick up specialist gear in advance, check out coats and waterproofs from the likes of North Face available here from Cotswold Outdoor. Consider investing  in some Brasher Boots , like these from Millet Sports. If you are in the market for some good walking boots – theirs are consistently top rated on walking forums and it's hard to know where to start sometimes.
You can choose to explore the islands alone or book yourself onto one of the many island tours, some of which concentrate on nature and aim to boost your chances of spotting sea eagles, seals and others. Other tours take in the rich Hebridean heritage that includes Norse, Scottish and British rule. The Visit Scotland website keeps a good list of the varied tours on offer, so check out what tickles your fancy by talking a peek here).
Hillwalking is just one of the activities you can get involved with on the islands where you can also sail, surf, play golf, fish or cycle – all surrounded by areas of natural beauty and truly breathtaking scenery. Of course, you won't find the same nightlife that you'd associate with a similar hop of the Greek Isles – but you will find a smattering of welcoming pubs serving a refreshing pint and restaurants serving fresh sea food. And, if you like to get stuck into the local cuisine on your travel a visit to the Salar Smokehouse in South Uist (website here) should also be on your list. Sampling the local fish delicacies here isn't quite as high octane as eating Fugu fish in Japan, but it's still a treat for the taste buds.
About The Author
Related posts