6 Considerations for Backpack Safety While Travelling Overseas
Travelling overseas is undoubtedly an exciting venture if you keep everything safe. While talking the travelling safety, one of the most important considerations that come across relates to the backpacks. Here are six important tips to consider for your backpack safety while travelling aboard.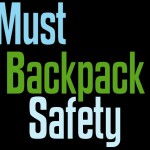 1.     Get locks for the Backpack's Zippers
This is the simplest step to consider while talking about the safety of your backpack. Even the smallest of the locks can save you from pick pocketing as you can never see whatever is happening behind you. We usually limit our safety measures to wallets while thinking of pick pockets but back packs are a much easier target. You might be simply sitting somewhere with your back pack besides you and it would even take a moment to reach in for pulling out something valuable. Especially when you are travelling with a great camera, tablet or other valuables, spending a few bucks on a mere lock can actually aid you in saving a fortune.
2.     Keep the valuables wisely
Where you keep all the valuables such as your passport, ID, Money, Plane tickets etc. become important while travelling aboard. Never keep all such items in the outer pocket of your backpack as they can be easily stolen from there. Therefore, the best place for them is the inner and the bigger pockets. Not only are these pockets less accessible but are also deep and so can easily hold all your important stuff.
3.     Prefer a lightened load
Ideally, the total weight of your filled backpack should never succeed more than fifteen percent of your total body weight. The foremost way to lighten the total load is to remove any kind of the non-essentials. Remember, even an extra novel and a different hairbrush can add weight. Simply get down to basic needs and pack accordingly.
4.     Pick the right size of the bag
Yes the bag size is also crucial. For instance, adult backpacks are made strictly for adults and not for children. You must always buy a backpack so as to fit your body size. Many catalogs and stores list all this information along with the other product description. If it is not given, simply confirm it from the seller. Remember, while the shoulder straps of the bag are adjusted, its bottom should lie at least two inches above your waistline. If you plan to carry a lot of valuables or electronics, pick a bad which is internally wide than the one that is equipped with more external pockets.
5.     Position the bag properly
You must always wear your backpack in a proper manner in order to avoid imbalance and muscle strain. You should wear the shoulder straps in a way that both of them are easily snug. If your backpack is equipped with a waist strap, use it in order to distribute the entire weight evenly. Also, try to maintain a good and straight posture while carrying the backpack. It is always tough or rather impossible for picketers to steal from a bag which has been firmly positioned and tightly handled by its owner. Even if they will try a grab, you will easily come to know.
6.     Set the time limit
Wearing your backpack for continuous and longer lengths can be both mentally as well as physically strenuous. Therefore, always try to wear it for a maximum of thirty minutes or even lesser. This rule can be easily followed unless you are jaunting across a rambling campus or are on an all day hike. If it still seems tough, prefer carrying a much lighter load. As far as you have kept your valuables carefully in the inner pockets and secured the outer pockets with locks, your backpack is safe.
Author Bio:
Bill Clark runs his own travelling channel on a local level. He is also an active member of the international forum for the travelers and provides special offers for car hire in Tenerife.
About The Author
Related posts