Take a trip to Tabarca Island for seafood, a stroll and some history
There are some days in Alicante city when all you want is a sunbed, light filtering through an ice-cold drink, and nothing more strenuous than turning the pages of a new novel. But if you want some holiday stories to turn friends back home green with envy, you'll need to explore a little further. What brings back visitors year after year to this province, set between the mountains and the Med?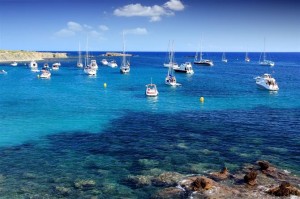 Why not hire a car in Alicante for a couple of days and head along the coast? Beat the crowds going north to Benidorm, and set the sat-nav for some of the smaller towns to the south. And if you've wondered what's going on under that sapphire sea, how about a boat trip to an island where the marine life is close enough to touch? Take time out on Tabarca, and a step into Spain's past.
Spot some starfish!
Tabarca Island is just a short hop from the mainland, but it can seem like a world away from the busy resorts. You can catch a ferry from Alicante, but by far the best option is a twenty-minute drive to Santa Pola, where you can choose how you travel to this little magical isle. The fastest route is by water taxi, but for a crossing that's part of the whole experience, a glass-bottomed catamaran trip takes around half an hour. You'll want time for wandering, so try to catch an early departure – it's wise to check the website for seasonal changes to times.
Park up at Santa Pola's harbour, and buy your ticket for a morning trip. The last return journey is early evening, and you won't want to rush back. It's a bit choppy on the journey, but when you're watching fish swim by, or marvelling at coloured corals, you'll be landing on the quayside before you've noticed the swell. La Tabarca is a marine reserve, so you could spot sea urchins or starfish, and the water's so clear that you can see the ocean floor!
Walk off that long lunch
Some of those submarine creatures might well end up on your plate if you eat at the island's port. It can be a bit pricy, but you're paying for flavour and freshness, along with a harbourside seat where you can watch the catch come in. Take a little time choosing and you can find a fair-priced menú del día, or you could pack up a picnic and find your own little cove. If your budget runs to a restaurant, try the local caldero, a hearty two-course rice dish full of flavours from the sea.
If you're not really captivated by crustaceans, whether they're swimming about or served up with a sauce, there's more to the island than marine life and seafood specials. There's an unspoilt old-world charm to Isla Tabarca that's a real contrast with brash Benidorm-style bustle. It's a little like the Med in microcosm. You can take a walk right around the island and it never feels like a route-march. You're on sandy paths, not scaling a peak. And around each curve of the coast-walk, there are new discoveries, from the wilder east side to the little unspoilt town.
Peace, or a pedalo?
If you're seeking seclusion, head east towards the lighthouse, or you could stop in the town's plaza to see the old baroque church. If you just want sheltered beaches, choose horseshoe-shaped Cova de Birros, or stick to the main Playa if you want a bit more to do. If you're travelling with teens, they might want to try snorkelling or a pedalo. Toddlers will be happy with ice cream and a paddle in a rock pool, or you could tell them tales of the pirates that once used Tabarca as a place to hide.
Some visitors fall in love with the island, and return to the tourist towns with a hint of sadness. And some long for some shopping and a buzzing seafront bar. If Tabarca didn't entrance you, there's still Santa Pola. You'll have seen its modern marina as you started your trip. So you might want to linger for the evening before you head home, or make a note to come back for a rummage at its Monday market. The allure of this coast is that there's something to please everyone – pick up a map, pile in the car, and find your very own bit of bliss.
About The Author
Related posts