2013:Ibiza summer Clubbing Guide
The party capital of Europe has opened its doors and the summer clubbing season is about to get underway. Ibiza´s super clubs are internationally renowned and attract the world´s most famous acts and Djs. The only downside can be the price tag, however, one way to keep control of your finances is by going all inclusive in Ibiza. This means you can be assured that your food and drinks are paid for in advance, making it easy to budget for those big nights out. Here are some of the highlights of the summer, letting you know what´s on and when, to help you time your visit.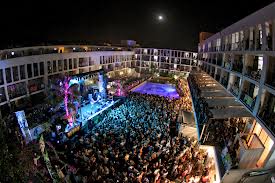 Ibiza Rocks
Ibiza rocks is a venue which throughout summer plays host to some of the best live acts and DJs around right now, from the festival headliners to new break through talent. This year the intimate outdoor venue will see a 16 week summer season. Here are some of the highlights planned for 2013.
June- 5th: opening night with Jake Bugg, 7th: Zane Lowe & Baauer, 19th: The Vaccines
July- 5th: Example & DJ Wire, 10th: Tinie Tempah, 31st: Chase and status
August- 9th: Rinse FM with Katy B, 21st: Ellie Goulding, 28th: Dizzee Rascal
September- 6th: Rinse FM with Skepta/so solid crew, 18th: Closing party with Foals
Pacha
Once the party season gets in full swing on the 22nd May with the newly named "Wisdom or the Glove" opening party, each night of the week sees a different themed night (repeated weekly). They feature the most talented and well known Djs from around the world packing an audience of 3000 inside its famous walls.
Mondays: Epica- big room house music
Tuesdays: Flower Power- Classic 60s and 70s
Wednesdays: Wisdom or the Glove- underground
Thursdays: FMIF- Big room house music with David Guetta
Fridays: Insane- Underground
Saturdays: Pure Pacha- House
Sundays: Solomun+1- Underground
Space
Space, located in Playa d'en Bossa, is one of Ibiza´s largest super clubs where its huge opening party on the 26th May unofficially kicks off the entire Ibiza summer clubbing season. The season lasts until 29th September.
Sundays: We Love…- Electronic music
Mondays: Café Ole- House
Tuesdays: 9th July for 12 weeks: The Revolution, The Party unites.  Carl Cox with guests- techno
Wednesdays: Ibiza Calling- Underground
Thursdays: Enter- Minimal. Innovation, new technology and new concepts
Fridays: Clandestin- New night featuring resident DJ Felix Da Housecat starts 28th June
Saturdays: Kehakuma- Underground house music
Amnesia
The 5000 person capacity venue is one of Ibiza´s must legendary clubs. Now owned by Cream, from 2006, Amnesia won the Best Global Club award at the Winter Music conference three years in a row, before installing the latest lighting technology of a 24 color laser system.
Mondays: Cocoon- Techno and House
Tuesdays: Together- Electronic
Wednesdays: La Troya- Themed
Thursdays: Cream- Dance
Friday: Music on- Techno
Saturday: Matinee- DJs, dancers, performers from Matinee Group
Sunday: Pop star- progressive & house DJs. Pop artist collaborations with resident DJ Brian Cross
So, what´s it going to be?
About The Author
Related posts